McGregor vs Mayweather Betting Odds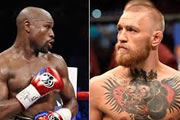 History will be made on August 26th, 2017, at the T-Mobile Arena in Las Vegas, Nevada. MMA Champion Conor McGregor will compete against Floyd Mayweather for just one thing: pride. Oh yeah, and lots and lots of money. The boxing match of the year has been set, and oddsmakers all over the world have already begun to create propositions and take wagers on who will win the historic showdown.
McGregor, 28, will be making his boxing debut in this match. Mayweather, 40, is coming out of retirement for the fight. Mayweather has never been defeated and stands to win his 50th boxing match against the Irish-native. The fight will be broadcast on Showtime Pay Per View for $99.95. The match is set to 12 rounds, and the competitors will be wearing 10-ounce gloves. According to UFC president Dana White, McGregor will be weighing in at 154 pounds.
Below, we go over all of the emerging lines for this match. Explainbettingodds.com should be your one stop shop for all of the McGregor vs. Mayweather betting odds, as we'll have the breakdown for everything you need here. At Explainbettingodds.com, our goal is to help you understand the odds and what they mean, not just explain how to read them.

Current Mayweather VS McGregor Betting Odds
Betting Odds To Win The Mayweather vs Mcgregor Fight Explained
In one corner, weighing in at 154 pounds, the undefeated champion boxer Floyd Mayweather, Jr. Mayweather is the heavy favorite heading into the August fight. The legendary boxer retired in 2015 completely undefeated, with a record of 49-0. The champ is coming out of retirement for this fight though and will have the chance to turn 49 wins into an even 50. Mayweather's odds to beat McGregor are favorable but have a wide range across many different sportsbooks.
In the other corner of the ring, also weighing in at 154 pounds, the challenger Conor McGregor. McGregor is arguably the best fighter in the MMA. And while Mixed Martial Arts does include elements of boxing, McGregor has never actually competed in a full out boxing match before. The southpaw's inexperience in this ring makes him a longshot to win. While he's definitely the underdog, McGregor's betting odds to beat Mayweather are offering higher payouts at some books than they are at others.
Whether you believe Mayweather will take home his 50th win this fall, or you think McGregor has what it takes to overcome the odds, you should definitely find the book offering the largest payout for your bet to win the fight. Remember, odds don't reflect probability – they reflect what you stand to gain.
TO WIN FIGHT
WAGER
To Win Fight
Total Rounds Betting Odds
One of the most common ways to bet on a fight is to bet on how many total rounds will be completed before the match is called. In the fight between Floyd Mayweather and Conor McGregor, the total number of rounds has been set at 9.5. If you bet the over, then the match must go on for at least 10 rounds before you win your bet. If you bet the under, it cannot go one for more than nine rounds, otherwise, your bet is a loss. Right now, oddsmakers have given the under more favorable odds, meaning that they think it is more likely that the match lasts nine rounds or less rather than it lasting ten rounds or more.
TOTAL ROUNDS
WAGER
Total Rounds
Betting On The Fight Outcome
One of the prop bets allowed at online sportsbooks for the upcoming McGregor/Mayweather fight is the fight outcome. This is a generalized way to bet on the outcome of the event. There are three possible fight outcomes with betting odds in this category. The first is by knockouts, technical knockouts, and disqualification. The second is by decision or technical decision. The third is by draw or technical draw.
If you bet on Mayweather to win by Knockout, Technical Knockout, or disqualification, and he wins in a draw, your bet is a loss. If you bet on McGregor to win by decision or technical decision and he wins by disqualification, your bet is a loss. When you make a bet like this, the exact situation you bet on has to occur for you to win your bet. As of now, the oddsmakers are favoring a win by Mayweather by knockout, technical knockout, or disqualification.
FIGHT OUTCOME
WAGER
Draw
+5000
-
Mayweather by TKO
-175
-
Mayweather by Decision
+200
-
McGregor by TKO
+500
-
McGregor by Decision
+1600
-
Exact Method Of Victory
The exact method of victory is the most specific wager with Mayweather vs. McGregor betting odds. To win this bet, you'll have to correctly predict exactly how a fighter will win. For example, there are betting odds for Conor McGregor to win by Technical Decision – they're the longest odds on the board, but they're there. If you make this bet, and McGregor wins any other way, you lose your bet. The same goes for if you wager on Mayweather's odds to win by unanimous decision. Betting odds on the exact method of victory in the McGregor/Mayweather fight can be found at any of the sportsbooks we recommend on this page.
EXACT METHOD of VICTORY
WAGER
Mayweather by Knockout
+300
-
Mayweather by Majority Decision
+2000
-
Mayweather by Split Decision
+2500
-
Mayweather by Technical Decision
+5000
-
Mayweather by Technical Knockout
+275
-
Mayweather by Unanimous Decision
+200
-
Mayweather by Disqualification
+1000
-
McGregor by Knockout
+700
-
McGregor by Majority Decision
+5000
-
McGregor by Split Decision
+3300
-
McGregor by Technical Decision
+5000
-
McGregor by Technical Knockout
+900
-
McGregor by Unanimous Decision
+4000
-
McGregor by Disqualification
+5000
-
Draw
+5000
-
Rounds Betting
Another popular form of prop betting on boxing is betting on which round you think the match will end. This is called Round betting. Each competitor is given odds to win in each round (for the Mayweather/McGregor fight, there are 12 rounds slated). To win a rounds bet, you have to have correctly predicted which fighter win the exact round you chose. For example, if you bet on McGregor to win in round 7, but he wins in round 8, you have lost your bet. Round betting is a very specific form of prop betting.
ROUND BETTING
WAGER
Fight Draw
+5000
-
Round 1

| | |
| --- | --- |
| Mayweather: | - |
| McGregor: | - |

Round 2

| | |
| --- | --- |
| Mayweather: | - |
| McGregor: | - |

Round 3

| | |
| --- | --- |
| Mayweather: | - |
| McGregor: | - |

Round 4

| | |
| --- | --- |
| Mayweather: | - |
| McGregor: | - |

Round 5

| | |
| --- | --- |
| Mayweather: | - |
| McGregor: | - |

Round 6

| | |
| --- | --- |
| Mayweather: | - |
| McGregor: | - |

Round 7

| | |
| --- | --- |
| Mayweather: | - |
| McGregor: | - |

Round 8

| | |
| --- | --- |
| Mayweather: | - |
| McGregor: | - |

Round 9

| | |
| --- | --- |
| Mayweather: | - |
| McGregor: | - |

Round 10

| | |
| --- | --- |
| Mayweather: | - |
| McGregor: | - |

Round 11

| | |
| --- | --- |
| Mayweather: | - |
| McGregor: | - |

Round 12

| | |
| --- | --- |
| Mayweather: | - |
| McGregor: | - |

Mayweather on Points
McGregor on Points
Rounds Group Betting
If round betting seems a little too specific for you, there is something called round group betting. This is where betting odds are given to each fighter, but the rounds are grouped together by three. So instead of McGregor in the 7th, you can bet on McGregor to win in the 7-9th rounds. When you place these types of bets, you have a wider margin of error to work within. So if you think he's going to win in the 7th but he wins in the 8th and you bet on McGregor to win in the 7th-9th, then your bet is a success. But if he wins in any round that isn't the 7th, 8th, or 9th, or if he loses the match, then your bet is considered a loss.
ROUNDS GROUP BETTING
WAGER
Mayweather to win in Round 1-3
-
-
Mayweather to win in Round 4-6
-
-
Mayweather to win in Round 7-9
-
-
Mayweather to win in Round 10-12
-
-
Mayweather by Decision
-
-
McGregor to win in Round 1-3
-
-
McGregor to win in Round 4-6
-
-
McGregor to win in Round 7-9
-
-
McGregor to win in Round 10-12
-
-
McGregor by Decision
-
-
Draw
-
-
Will Fight Go The Distance?
This fight is slated to go for 12 rounds, the standard amount for a championship boxing match – although this match technically isn't for a championship. Right now, there are betting odds on whether or not the fight will go the distance, which means last all 12 rounds and then go to a decision by the judges. This is a simple "yes" or "no" bet. This bet is sort of like betting on the total number of rounds in a less specific way. If you bet yes, the match will have to last the full 12 rounds for you to win your bet. If you bet no, you win the bet so long as the match ends after 11 rounds. Will the fight go the distance? Betting odds say that "no" is the favored answer.
WILL THE FIGHT GO THE DISTANCE
WAGER
Go The Distance
Odds That There Will Be A Knockout
This is another very specific form of prop betting. Each fighter will be given Knockout betting odds. So you'll see "yes" and "no" options, with corresponding betting odds, for each fighter. If you bet that McGregor will not get a knockout, and he does, your bet is a loss.
Betting on How Many Viewers Will Watch
If you want to bet on the fight without actually betting on the fight at all, this line is for you. At certain online sports betting sites, you can wager on the total number of viewers that will be paying to watch the match. The total has been set to a modest 4.99 million. Right now, the "over" is favored in this situation. This is probably because no fight like this has ever happened in the history of either boxing or MMA. That makes for good pay per view and even better pay per view betting odds.
HOW MANY PPV VIEWERS
WAGER
# of Viewers

| | |
| --- | --- |
| Under 4.99 Million: | -140 |
| Over 4.99 Million: | EVEN |

| | |
| --- | --- |
| Under 4.99 Million: | - |
| Over 4.99 Million: | - |
Understanding Conor McGregor Vs. Floyd Mayweather Betting Odds
There are a couple of things you need to know in order to understand McGregor vs. Mayweather betting odds. Right now, Mayweather is the overwhelming favorite heading into the fight. He is completely undefeated (49-0) in the ring. Conversely, McGregor has never boxed before in his life, although he is an accomplished MMA fighter which does incorporate basic boxing principles. The fact that Mayweather is the favorite really shouldn't be surprising and really isn't noteworthy. What should pique your interest is the variation of Mayweather's odds to win and how the lines have moved since the fight was announced.
When it comes to understanding McGregor vs Mayweather betting odds, you need to do your research. When you do that, you'll see that a majority of bets have been placed on McGregor – but the high rollers (aka the sharps, the experts) are backing Mayweather. It's a matter of quantity vs. quality – the number of bets placed on McGregor has forced the lines to move and shortened Mayweather's odds, but he's still the overwhelming favorite because the largest bets are backing him.
How To Read Boxing Odds
If you're wondering how to read boxing odds, it's actually pretty simple. The (-) denotes the favored outcome, while the (+) shows the underdog, or outcome considered less likely to occur. When reading boxing odds to determine your payout, a line with a (+) in front of it shows how much you stand to gain based on a $100 bet. Odds with a (-) next to it show how much you have to stake in order to win $100.
Why The Betting Odds Change
The most important thing to understand about betting odds – especially these particular betting odds – is how they become a living entity once they are posted. Betting odds do not reflect the actual probability of an event happening. Rather, they simply represent the reward (profit) that you stand to gain from your risk (bet). The betting odds change based on the liability the sportsbooks have on that line.
This can be easily seen from the McGregor vs. Mayweather betting odds. Mayweather opened at -1100, but so many people liked the odds given to McGregor (or just didn't want to see Mayweather win) that they bet on Conor. To balance everything out, Mayweather's odds have dropped dramatically, as low as -550 on Bovada. It's not because he has less of a chance to win – it's because people are betting heavily on McGregor because they liked him more.
Shopping Lines At The Best McGregor vs Mayweather Sportsbooks
Now, along with the movement of the lines, there is a huge variation of betting odds at a number of different sportsbooks. The variation of the lines at different books shows you something as well – the advantage of shopping lines. Odds show payout, not probability. Betting at a book with more favorable odds won't change the outcome of the match – it just puts more cash in your pocket. So when you do place your bet, place it at the book that's going to give you the highest payout. Shopping lines is a big part of understanding how to successfully bet.
Sportsbook Reviews
Bovada – #1 American Sportsbook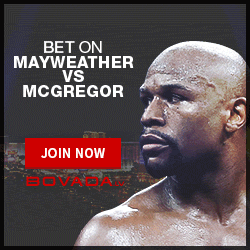 Bovada sportsbook leads the industry in American sports betting. It doesn't get any better than the lines offered at Bovada.lv. Known for its speedy payouts and incredibly secure site, Bovada has become a household name amongst bettors in the US. In addition to this, you'll find more props, futures, and moneylines at this site than any other. Bovada's mobile betting site is unlike any other, allowing players to bet on boxing matches no matter where they are. The site is browser-based, which means you can access it no matter what kind of operating system your mobile device uses. This also allows you to do everything from your mobile device that you would on the computer. With all of the incredible features offered by Bovada, you'll always have something to bet on. Right now, the site has the most competitive odds for the Mayweather/McGregor site you'll see at an online sportsbook. Sign up today and earn up to $500 in welcome bonuses.
SportsBetting – Best Bonuses For Boxing Bettors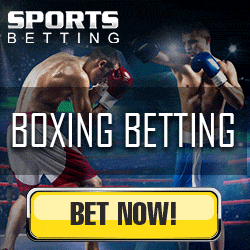 Betting on a can't-miss event like the McGregor/Mayweather fight should be done at a sportsbook that will give you the biggest bang for your buck. Not only does SportsBetting have some of the most competitive lines for the upcoming fight, but they also have some of the most generous bonuses. When you first create an account, SportsBetting will match 75% of your initial deposit up to $1,000. They'll also offer you risk-free bets when you use their live betting and mobile betting features, giving you up to $75 in free play credits. SportsBetting.ag is a licensed and registered sports betting site safe for players from all over the world, including American bettors in all 50 states. Sign up today and start earning tons of free cash and prizes just for doing what you love.
| Sportsbook | Deposit Bonuses | USA? | Visit Sportsbook |
| --- | --- | --- | --- |
| | $250 Max - 50% Match | All States - ex. DE, MD, NJ, NV, NY | |
| | $1,000 Max - 50% Bonus | All States - ex. NJ, NV, NY | |
| | $1,000 Max - 50% Bonus | All States - ex. NJ, NV, NY | |
| | $1,000 Max - 50% Bonus | All States - ex. NJ, NV, NY | |
| | $300 Max - 100% Bonus | All States | |
FAQ's
What Happens If McGregor Kicks Mayweather During Their Fight?
If Conor McGregor kicks Floyd Mayweather at any time during their boxing match in August (or probably any time before or after that), he will face a potential lawsuit. The Irishman stands to lose pretty much every penny he's ever made if he so much as touches Mayweather with his foot. The fight will be conducted under standard Nevada boxing rules.
What Weight Will McGregor and Mayweather Fight At?
Both fighters will have to weigh in at 154 pounds. Each has fought at that weight previously in their careers. In addition to this, the fighters will be using 10-ounce gloves, a heavier weight than McGregor usually fights with.
How Much Will The McGregor vs. Mayweather Fight Cost On PPV?
Although the price and exact time of the fight have not yet been determined, most experts are predicting a PPV price tag similar to the Mayweather/Pacquiao fight. So if you decide to order the pay per view McGregor vs. Mayweather fight, expect to pay somewhere around $99.95. The fight will be streamed on Showtime Sports.
Will McGregor Being A Southpaw Give Mayweather Trouble?
Mayweather has historically struggled against southpaws during his career. While the 40 year was able to defeat all nine southpaws he's come up against, he's got a definite weakness where they're concerned. If McGregor is smart, he'll use this to his advantage, and spend a good amount of time leading up to their fight pouring over Mayweather's previous meetings with lefties.
When Was The Last Time Mayweather Fought?
Mayweather retired in September 2015, after defeating Andre Berto. Many criticized the fight as a "waste of time", as Mayweather outclassed Berto in almost every respect. The Champ retired, undefeated (49-0) at the age of 38.
What's The Best Deposit Method?
The best deposit method for betting on boxing is usually a credit card or bitcoin. Credit cards allow players to make fast, simple transactions that credit their account within minutes. If you're looking for the same speed when it comes to your deposit, but want a higher limit (credit card deposits usually max out at $5,000), try bitcoin. The digital currency is credited to your account in seconds and allows an upwards of $20,000 to be deposited in a single transaction. Keep in mind that most sites will require you to withdraw your funds the same way you deposit, so if a book doesn't offer a credit card withdrawal, you might want to go with bitcoin.
Should I Shop For Lines?
We recommend that you always shop for lines because it's the difference between a few dollars profit and a few hundred dollars profit. For example, Mayweather is -550 at Bovada right now, which means that you'd have to risk $550 to win $100. But at SportsBetting, he's -725, meaning you'd have to risk $725 to win $100. If you're going to bet on Mayweather regardless, why wouldn't you place that bet at Bovada, where you don't have to risk as much? Conversely, McGregor is +375 at Bovada but +550 at SportsBetting. So on a $100 bet at each site, you'd stand to gain way more at SportsBetting ($550) than you would at Bovada ($375). This difference in odds is why we recommend shopping lines.
Can I Bet On The Match At More Than One Sportsbook?
Yes! There's nothing against betting on the match at more than one sportsbook. Having multiple accounts allows you to shop lines much more easily, as well, so it really is advantageous. If you're trying to hedge your bets, betting on more than one sportsbook can be a really good idea, especially if there's a chance for a higher payout at a different sportsbook. If you refer to the above example, it would make much more sense to bet on Mayweather at Bovada but back McGregor on SportsBetting.