How To Bet On Wimbledon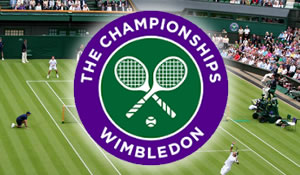 The Wimbledon Championship is the most highly-anticipated event for tennis bettors each year. The event takes place at the grass courts of the All England Lawn Tennis and Croquet Club in London, England. Wimbledon is one of four prestigious Grand Slam Tournaments that includes the Australian Open, US Open, and Roland Garros. The exact date for Wimbledon is determined each year, however, it typically takes place anytime from the last week in June to mid-July.
Throughout the two-week event, tennis aficionados get in on the action by wagering on all of the women's and men's singles and doubles matches. Online sports betting sites such as Bet365 give bettors plenty of opportunities to win, and also make wagering more entertaining with live streaming and in-play betting options.
If you are a fan of tennis and are interested in betting on the exciting sport, there is no doubt that Wimbledon is one of the biggest events that you look forward to wagering on. Throughout our guide to betting on Wimbledon, you will find the latest Wimbledon betting odds, how to bet on Wimbledon online, and the different types of Wimbledon wagers that can be placed.
2017 Wimbledon Betting Odds
This year, players in the 2017 Wimbledon Championship began competing on July 3rd with the 14-day event closing on July 16th. Wimbledon 2017 betting odds have shifted since the beginning of the tournament, but there are still clear favorites and underdogs at online sportsbooks like Bet365. The online sportsbook has given Roger Federer +225 betting odds to be the outright winner of Wimbledon 2017. Rafael Nadal is the second favorite to win Wimbledon with +250 betting odds, while Novak Djokovic follows closely behind with +333 odds. Rounding out the favored players is defending champion Andy Murray, who has +550 betting odds to win Wimbledon outright.
In the women's championship, Garbine Muguruza has been making headlines and has +400 odds to win Wimbledon 2017 outright. Venus Williams is one of the most well-known names in tennis but has had a myriad of off-court issues that perhaps have her off of her A-game. At Bet365, Venus Williams has +550 betting odds to be the outright winner of Wimbledon.
Wimbledon Betting Options
When betting on Wimbledon, you will have options when it comes to the types of tennis bets you can make and the way in which you make the bet. Rather than placing your bet on Wimbledon strictly from your desktop, you can also make wagers while out and about from your mobile phone. Online sportsbooks offer mobile betting platforms that allow tennis bettors to wager from their iPhone, Android, or BlackBerry device. Not only can use your smartphone to get in on the action taking place Center Court, you can also use any tablet device as well.
Wimbledon also presents many of the traditional tennis wager types while also offering a few additional betting options. Below you will find some of the common ways to bet on Wimbledon:
Set Betting
When set betting, you wager on how a selected player or pair will win a match relative to the number of sets won and lost. For example, in a men's doubles match you will wager on if the set winners will have a final score of 3-0, 3-1, or 3-2. If you think that the losing pick will put up a fight but your selection will ultimately win, you would choose 3-2. On the converse, if you believe your selection will dominate the competition, choosing a 3-0 scoreline might be more advantageous.
Match Betting
Match betting is one of the most popular ways to bet on Wimbledon. With this bet, you are predicting which player or doubles team will win the match. All you have to do is research the player or pair and make an informed decision on where to place your bet. At Wimbledon, you will want to focus on how your selection has performed on grass.
Handicap Betting
There are two different types of handicapping betting in tennis- set handicap betting and game handicap betting. When you feel a match is a bit one-sided and there is not enough value in the match bet, handicap betting creates a better value by making the betting market "equal". Handicap betting is popular because you can win a bet without your player necessarily winning the match.
With set handicap betting, Player A is given a specified set advantage while Player B is conversely given a deficit. If the handicap for Shelby Rogers is set at +1.5, that means you have a winning bet as long as she wins the match or does not lose by more than 1.5 sets. If the handicap for Angelique Kerber is -1.5, she must win by at least 1.5 sets.
Games handicap betting is similar to set handicap betting, except the advantages and deficits are given on games. Winning the bet relies on your player winning or losing a certain amount of games during a match. For example, if Andrew Murray has a -3.5 game handicap, he must win at least 4 more games than his opponent during the match. If Benoît Paire has a game handicap of +3.5, his total number of winning games during the match must be within 3 games of Murray's final game total.
How To Read Tennis Odds
When you start line shopping for Wimbledon betting odds, you will find that online sportsbooks may present the odds in different formats. If you are using an US-friendly sports betting site, chances are you will see American odds. At online sportsbooks with a lot of traffic from UK players, you will most likely find fractional odds on sporting events. There are also decimal betting odds at many European online sportsbooks. When you understand how to read tennis betting odds, you do not have to limit yourself to only one type of sportsbook and you can compare even more odds.
American Betting Odds
When you read American betting odds, there will be a favorite represented by a (-) sign and an underdog represented by a (+) sign. When you bet on the favorite, the odds show the amount that you would have to wager in order to win $100. If the odds are -210, you will need to bet $210 to win $100. When you bet on the underdog, the odds represent how much you will win on a $100 bet. If the odds were +220, you would win $220 on a $100 wager. Take a look at the Wimbledon betting odds in the example below:
Venus Williams (-125) vs. Jeļena Ostapenko (+105)
If you were to bet on Venus Williams, the favored player, you would need to wager $125 in order to win $100. If you bet on the underdog Jeļena Ostapenko, you would win $105 for betting $100.
Fractional Betting Odds
The easiest way to understand fractional betting odds is by knowing that the odds represent a win/risk ratio. The number to the right indicates how much you will win, while the number on the left the amount that you will have to risk. For example:
Rafael Nadal (4/9) (-225) vs. Gilles Muller (+220) (11/5)
If you were to bet on Rafael Nadal, you would win $4 for every $9 that was risked. In order to win $100, you would need a $225 stake. If you bet on Gilles Muller, you would win $11 for every $5 risked. That means that with a $100 stake, you would win $220. With fractional odds, if the fraction is less than one you will need to risk more than you your potential win. If the fraction is greater than one, your win will be greater than your risk.
Decimal Betting Odds
With decimal betting odds, you can easily calculate your total return including your original stake with simple multiplication. The odds multiplied by your stake will give you the total amount of your return. For example:
Adrian Mannarino (15.00) vs. Novak Djokovic (1.030)
Placing a $100 bet on Adrian Mannarino would result in a total return of $1500 ($100 x 15.00 = $1500). If you want to place a $100 bet on Novak Djokovic, you would receive a total return of $103.03 ($100 x 1.030). As you can see, Djokovic is highly favored to win this matchup. With decimal odds, if the decimal is less than 2 you will be risking more than your potential win. If the decimal is greater than two, you can risk less to win more.
How Can I Watch Wimbledon?
You can watch all of the key Wimbledon matches on BBC, as the broadcaster has had a long-standing partnership with the tournament. The events are broadcast live and there are also full highlight shows featuring the day's events.
At Bet365 online sportsbook and many other top sites, you also have the option to live stream the event. When you log into your account, you should see a link that says "Live Streaming" that will show you the events available for streaming on that particular day. It is free to live stream events, however, you are typically required to have funds in your sportsbook account or have placed a bet within 24 hours prior to streaming.
You can also bet while you watch Wimbledon, making the intense matchups even more exciting. Online sports betting sites will feature a "Live Betting" section where you can select events from different sports categories. You will find a comprehensive tennis betting menu featuring in-play odds on both the ATP and WTA markets. Some of the live betting options include wagering on the set winner and game winner, total games, total sets, or even the correct score for the match. With Wimbledon being one of the biggest tennis events of the year, you will find no shortage of tennis live betting opportunities.
Where Can I Bet On Wimbledon?
With Wimbledon being one of the oldest and biggest events in the tennis world, every online sportsbook will feature Wimbledon betting odds. The best tennis betting sites will feature a variety of bets, such as match winner, first set winner, handicap bets, and game totals. You will have hundreds of betting opportunities and plenty of chances to win big. Being able to live stream the matches and use in-play betting are also two features to look for when choosing a sportsbook to bet on Wimbledon. ExplainBettingOdds.com recommends using either Bovada or Bet365 when you are ready to start betting on Wimbledon or any other tennis event!
Bovada - Bet On Wimbledon With Bitcoin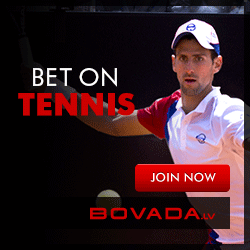 Bovada online sportsbook is the best option for US players that want to bet on Wimbledon. As one of the most trusted US-friendly online sportsbooks, Bovada delivers when it comes to reliable banking and an exciting tennis betting experience. You will find betting odds on women's and men's tennis matches, with betting options on every aspect of the tournament. You can bet on the moneyline, total, or spread, and you can even parlay your bets for a bigger potential payoff.
Being that Bovada is known for reliability, it only makes sense that you can use bitcoin to bet on Wimbledon. Right now, the oddsmaker is offering a Bitcoin Welcome Bonus that will match your first bitcoin deposit. Make a BTC deposit, and use code BVSBITCOIN50 to have your deposit matched by 50% for up to $500 in bonuses. The free plays will be credited instantly to your account, meaning you can start wagering on Wimbledon betting odds immediately. You can create your sports betting account today by visiting Bovada.lv!
| Sportsbook | Deposit Bonuses | USA? | Visit Sportsbook |
| --- | --- | --- | --- |
| | $250 Max - 50% Match | All States - ex. DE, MD, NJ, NV, NY | |
| | $1,000 Max - 50% Bonus | All States - ex. NJ, NV, NY | |
| | $1,000 Max - 50% Bonus | All States - ex. NJ, NV, NY | |
| | $1,000 Max - 50% Bonus | All States - ex. NJ, NV, NY | |
| | $300 Max - 100% Bonus | All States | |