Teasers + Teaser Bets Explained
A teaser is another type of wager available to bet on sports. A Teaser is not a straight bet, but is more similar to a parlay or a pleaser bet however it offers much better odds of winning. Often under-utilized, the teaser can be a value weapon in a bettors arsenal if they know how to use them correctly. Keep reading more below as we will explain further in depth about teasers and help you understand how betting odds work when it comes to making a teaser bet.
What Is A Teaser Bet
It is a parlay placed on a number of games, but the difference is that points are adjusted more in your favor. So instead of a team needing to cover 7.5, they need to cover a half point (depending on the size of the teaser) which then makes it easier for the picks to cover. But, the cost of using teasers versus parlay wagers is that the payout is less due to the increased chance for the bettor to win his/her wagers.
Why Bet On Teasers
Teasers can be advantageous to bettors that are fond of using parlays, but are not comfortable with the particular spreads or totals that have been set within a desired game.
A teaser allows the line to be shifted for these parlay-type wagers so that the percentage of winning them goes up in theory. As such, it makes them easier to win, unlike the opposite of a teaser, which is a pleaser. A pleaser takes points away making it more difficult to win the line by increasing the spread. But then the payout is much higher. For more information on pleasers, please visit the preceding link.
Example Of How A Teasers Work
Say you want to take an NFL teaser on two games. The Green Bay Packers are favored by (-6) over the Detroit Lions, and the New England Patriots are (-3) favorites over the Baltimore Ravens. Those are the established betting lines for the two match ups by oddsmakers. But if you decide you want to take a six point teaser, the betting line is adjusted in your favor depending on which side of the betting line you want to bet. Let's say you like Green Bay and New England. You can move the betting line so that the Patriots are now a 3-point underdogs to Baltimore, and the Packers are now a pick'em against Detroit. Since the lines have moved, the payout is going to be less, but your odds of winning go up.
Other Types Of Teasers - Sweetheart Teasers
Another type of teaser bet that not all gamblers know about is the sweetheart teaser. Available at some sportsbooks, especially those that cater to the US market, so-called sweetheart teasers exist that give the gambler even more points to play around with (anywhere from 10 or 13) but there is a catch.
Sweetheart teasers require that you pick at least four to six teams, there are reduced payouts thanks to the wider range of points you're offered, and pushes on sweetheart teasers make your entire bet a losing proposition. Sweetheart teasers are a special type of teaser bet that rewards players who understand point spreads better than the average gambler.
Bovada Sportsbook - Best Sports Betting Site For Teaser Bets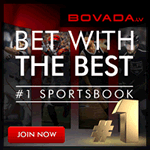 Bovada is geared for the US market, so their concentration on teasers makes a lot of sense. American sports bettors love teasers since they give them a little more leeway than parlays, but still allow wagers on a large number of different games.
Bovada offers first-time depositors a 50% match worth up to $250, though gamblers from Maryland, Delaware, New Jersey, New York and Nevada need not apply, as they are not currently accepted at Bovada. Check out the wide selection of teasers at Bovada if you like betting a variety of sports.
SportsBetting's Sportsbook - Lots Of Betting Odds + Tons Of Teaser Options

Sportsbetting.ag, like BetOnline, has an industry-leading deposit bonus program. Like at BetOnline, Sportsbetting.ag offers its customers a 50% deposit match worth up to $500 per deposit for the life of your membership. And though Sportsbetting.ag is not aimed specifically at the US market, it does offer teasers in varieties that US bettors should be familiar with. With Sportsbetting.ag, you get all the variety of the Internet's best teaser books plus a really lucrative deposit bonus program.
BetOnline Sportsbook - Best Sportsbook Bonuses And Promotions For Teaser Bets

BetOnline is a worldwide sports betting site that accepts US customers and allows bets on sports in varieties that Americans like, including multi-team and multi-game teasers. What BetOnline does better than Bovada is reward new members; at BetOnline, all of your deposits are eligible for a 25% bonus up to $1,000 for the life of your membership, every time you deposit.If you're the type of sports bettor that enjoy multi-game teaser bets and a wide variety of deposit options, check out BetOnline.