Bovada Betting Odds, Wager Types + More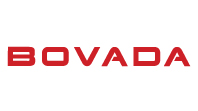 There are plenty of reasons for bettors to get excited about Bovada Sportsbook, and the things that they offer to account holders who decided to utilize their resources and odds to online sports wagering. Bovada is one of the best, if not the best, when it comes to betting sports online. Used among large television networks when citing odds, Bovada is the go-to site for those interested in wagering on the latest sports action from around the U.S., and even in terms of an international scale as well.
All the details surrounding Bovada Sportsbook and what exactly they offer is the theme of this page. Throughout the different topics and concepts about Bovada we talk about, you will learn why Bovada is ranked among the best online sportsbooks in the industry, and why having an account with them will be the best decision you make if you choose to engage in online sports betting. In other words, you simply can't sign up with another sportsbook without seeing what Bovada is all about.
But before ExplainBettingOdds.com delves into that, let us first examine who is allowed to bet on sports at Bovada and if this review is relevant to you + your situation before spending anymore time on this page.
Does Bovada Allow U.S. Players? - Who Can Bet On Sports At Bovada?
Bettors from the U.S. are allowed to bet at Bovada. There are four states which are restricted. They are Delaware, Maryland, New Jersey, and Nevada. Bovada is a legal real money wagering option for the other 46 states in the U.S. The legal age to bet at Bovada is 18 on site, but for USA players their local age in their state is deferred to if higher. So in some cases it could be 21 years old. But the important thing to note is that Bovada is a legal sports betting option.
Bovada Sports Betting Odds + Lines Types
Let's start out with the betting odds that can be found here. First, know that having the best online betting odds is what Bovada centers on. While they do a great job with everyting, the wide selection of odds + lines are what get the players in the door and keeps them here. Bovada offers several different types of betting odds that can be found throughout the sports and sections on the site. We break it down into game lines, futures, props, and in-play lines.
Game Lines - Normal Day-to-Day Wagers On Individual Games + Matchups
Bovada will form game lines for different matchups taking place. Game lines will consist of three different bets that can be made. For just about every game where relevant, there will be a bet on the spread, moneyline, and game total.
Spread - The point spread is a handicap that is installed for the two teams in a given matchup. A favorite and an underdog are established through the use of this point spread. For the favorite to win, they will have to win by more than the point spread. For a bet on the underdog, which is the team predicted to lose straight up, the underdog will need to lose by less than the number on the spread.
Moneyline - The moneyline does not take into account a point spread or any sort of a handicap. The moneyline is a straight up bet on a team to win the game straight up. If you think team A will beat team B, then the moneyline wager would be on team A. Payouts for straight up betting lines vary quite a bit more than with the handicap system of a spread.
Totals - Whether the over/under wager lines are for points, goals, or runs, a game total for a matchup is a staple among game betting lines. The total for a matchup is set prior to the game getting underway, with a wager made on the actual total of that game going above or below the installed total.
Future Betting Odds - Big Payout On Small Investment Make These Popular
Bovada's futures wagers are bets made on outcomes that can be weeks, months, or even years into the future. They are bets that typically center on championships, whether they are divisions, conferences, or league titles. One of the nice things about futures odds is that they are up constantly.
Take for example the Super Bowl. Betting lines to win the Super Bowl might be most popular during the week of the game, but Super Bowl odds are actually up just about all year long... even in the offseason under futures odds. Bovada has great futures section with the odds to win a championship for many sports.
Proposition Odds - Bovada Is The Best With All Types Of Prop Wagers
Prop bets are some of the most fun types of betting lines formed at Bovada. In fact, Bovada is probably one of the best sportsbooks to go with for prop odds. They have extensive coverage across a range of sports that produce hundreds of prop odds every week, spanning team and player.
Team Prop Odds - Team props at Bovada cover many different bets that can be made, depending on the sport. Bovada matches teams against each other on smaller outcomes for the team props. The actual numbers will depend on the sport, and payouts can fluctuate as well. But there will be no shortage of team props offered.
Player Prop Odds - Check out any NFL game, basketball game and more, and you will see top players for the game installed with many performance odds based on their totals in various statistical categories for the game. This adds extra betting lines aside from the standard game odds that you see.
In-Play Game Lines + Odds
For games that are already on the field or court, Bovada still allows bettors to get in on the action as its happening. Updated in-play betting lines are formed which are formed during the breaks of the games. Odds for different quarters, halves, and readjusted game lines are formulated for the games as Bovada takes plenty of different in-play bets. This is really nice, because sometimes, as bettors, we don't get in on the bet in time before the game starts. With this, Bovada users will not need worry about that because adjusted game lines are usually for most games in-progress.
Bovada Provides Online Betting Opportunities On These Sports:
NFL Football | College Football + Basketball | NBA | MLB | NASCAR | UFC | PGA Golf | Soccer | Tennis
Bovada Betting Types
We've gone over the odds that can be found within Bovada's online sportsbook, but what about the betting types? These are the actual wagers that can be made at this sportsbooks. Bovada tries to cater to as many types of bettors as possible, and letting multiple wager types be made is certainly a part of that.
Straight Wagers - These are the standard bets that are most commonly made when betting on game lines, props or futures. There is one bet, one payout, and one outcome involved with this type of wager. Think of a straight wager as being 'straightforward'. Click here to learn more about straight wagering.
Parlay Wagers - A parlay is a bet made on multiple outcomes. For the parlay to win, all outcomes must win. This sportsbook is know for having rewarding payouts depending on which bets are taken when wagering money on parlays.
Teaser Bets - A teaser shifts a betting line in favor of the player to make the outcome have a higher chance of success. By doing this though, the payout obviously goes down. Teasers are only offered on football and basketball.
If-Bet - An if-bet is in the realm of a parlay. An if-bet is a linked wager, where the first wager must win in order for the bet to have a chance to survive. Think of it as 'if this happens then this.' - learn more about if-bet wagers.
Reverse Wagers - A reverse bet is similar to an if-bet. The difference here is that all reverse bets receive double action. A reverse bet is basically two if-bets that are made.
Round Robin - A round robin wager is similar to a parlay wager. A round robin consists of anywhere between three and out bets that can be made, with the round robin then made on two to six of those teams.
Other Ways To Wager On Sports: Bovada Has Live Sports Betting!!!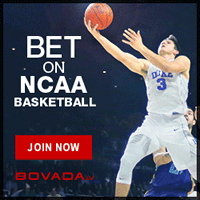 Bovada has a great live betting section that offers players the chance to wager on live action happening are the U.S. and the world. Bovada's live betting section is separate from the sportsbook homepage. You will be brought to the live betting page by clicking the option. Once in there, the games currently available will be listed, plus a nice easy-to-read schedule of upcoming matchups that can be bet live. Live bets can consist not just with adjusted game lines for the remainder of the matchup but also can be used with proposition wagering that can cover a span as short as the next 5 minutes of the game.
Like Bovada, many of the best live sports betting websites have become more popular of late due to the advancement of technology which has allowed more and more sports to be wagered live. Bovada has among the most options available of any sportsbook currently in operation.
Important Details To Consider Before Joining Bovada
We've talked about the betting odds and wager types at Bovada, but that is only a part of the betting process. There are other very important factors to consider when choosing to go with Bovada as your sportsbook of choice. Among them include how to sign up, bet for real money, and receiving payouts for your winnings.
Bovada Betting Limits - Fair If Not Generous, Subject To Player Status
This online sportsbook outlines the different betting limits by each sport within their help section. For example when it comes to betting the spread on an NFL game, that limit is $2,000. For the NBA, the maximum bet is $1,000. The point here is that Bovada has different limits depending on the sport.
Bovada's wager limits tend to vary between $500, $1,000 and $2,000 as the highest amount to wager on spreads, moneylines, props, and all other types of wager. Be sure to consult the 'Bet Limits' section under the questions about the sportsbook in the help section. If these don't work for you, be sure to contact the sportsbook manager because they could make an exception.
Getting Money In + Out Of Bovada Accounts - Deposit + Withdrawal Options
With respect to U.S. players Bovada is real nice because all deposit options and payouts are available for them to use. Funding methods include a Visa card, Western Union transfer and MoneyGram. The ladder two can also be used for a payout option. In addition to that is the choice for players to receive a check in the mail. Bovada deposits go through almost instantly, while payouts can take up to 12-36 hours for a transfer, or three weeks for a check.
Deposit Bonuses + Bovada Player Promotions
Bovada features a first-deposit bonus that gives players free cash to use for a bet. The bonus is earned by a 50 percent match to a maximum of $250. That means to earn the maximum deposit bonus; a $500 deposit needs to be made. This bonus earned is good for a free wager to be made at Bovada. The rollover requirement is 3X for a sports bet. The free bet will expire after 30 days if not used. Ready to claim Bovada's new player bonus? Click Here!
Bovada routinely offers other contests and promotions during the year. Among the most popular example would be a March Madness promotion that account holders can get in on for filling out a bracket challenge. This is just one example of what can be offered at Bovada, as they like to give away bonuses and gifts and produce challenges.
Other Features Available When Betting At Bovada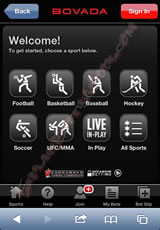 Mobile Sports Gambling, Betting On Sports Through Your Phone - Another neat feature at Bovada is the ability to take the sportsbook on the road with you. This can be done through the mobile option that Bovada offers. It's not an application, but Bovada does feature a mobile-friendly site compatible with Android, Apple, BlackBerry, and the Windows phone. This makes betting at Bovada even more convenient.
Casino, Poker, Horse Racing - Bovada is not limited to sports betting. They offer an extensive casino and poker room for players to wager in but they also have a top-notch racebook which is a close extension of the sports betting portion of the website. The casino is a full casino with slots, tables games and specialities, while the online poker site offers plenty of different formats for their games that cater to all types of players and sizes of bankroll. All in all, Bovada is the only account a user would need barring perhaps the need to play traditional bingo online but do know they have styled bingo games.
Ready To Sign Up At Bovada? Here Are The Details...
Being that it only takes a few minutes of your time to register for an account at Bovada, it is almost moronic to not have an account if you are at all interested in sports gambling. This sportsbook only requires the most basic personal information to be input to begin to create your new account. Of the things that will be needed, applicants should prepare to give their full name, mailing address, date of birth, and a valid email address. This will then lead to the creation of a password, with the final step submitting the information to create your account. After that, simply click on the link in the confirmation email that will be sent to the provided email address and you're ready to proceed on to account funding which was touched on above.