NFL Betting Odds Explained
Betting on the NFL is becoming more and more popular each season but with its growing popularity, many have jumped in without have the NFL betting odds explained to them. This is because it has come commonplace in the country to discuss betting lines on the NFL, but there are not many outlets that detail what these pundits, experts, and analysts are actually saying. No longer is Las Vegas the only place to make a wager, as over a dozen states have legal sports betting and there are also a handful of offshore betting sites that service the needs of NFL bettors.
Betting lines have come to your home, right on your computer screen, and this page is here to explain NFL betting odds + wager types. From point spreads to over/unders, prop bets and more, we're going to cover the details behind these types of wagers. After reading this, you should feel comfortable walking into any sportsbooks (or logging into one) and laying your money on the line with confidence, knowing exactly what you are risking.
Why NFL Betting Odds Exist
Betting odds for the NFL are formed for several aspects of the league. They are based on outcomes for games, the season, and more. Oddsmakers research and install betting lines for a variety of outcomes relating to the season. A bettor can then search to see what they would like to wager on, and then make the bet. If they win, they get the designated payout. If they lose, the sportsbook takes the bet.
NFL Point Spreads Explained
Betting on the point spread for an NFL game might be the most common wager one thinks of when betting on the NFL. The point spread is a bet made on a specific matchup, as a favorite (-) and an underdog (+) are determined. With a specific number of points set on the line., the team in the role of the favorite must win by the number of points they are associated with.
For the underdog, they must lose by less than their associated points – which is the same number as the favorite – or win the game outright. This is a concept designed to hypothetically even the playing field, as oddsmakers thoroughly research every aspect of the game before coming out with the game line.
Point spreads are not just for the entire game though. In fact, oddsmakers install quarter, half, and fulltime betting odds for NFL games. These betting lines work just as they would for betting against the spread for the whole game.
Betting the spread on the first or second half is a popular betting strategy of NFL bettors. These are just like betting on the normal spread, but it only covers one of the halves. The line in the second half allows bettors to make a wage after oddsmakers see the first half of play.
NFL Moneyline Betting Odds Explained - Straight Up Betting Lines To Win
Betting on the NFL moneyline is quite easy, as it is the simplest form of wagering. For moneyline wagers, all you must do is select who will win the game. Point spreads, the number of points scored, and every other factor has no merit on the moneyline. This simplicity is often why it is called straight-up betting, as it only requires picking the winner. To keep things balanced, sportsbooks will offer odds on every NFL game, where the favorites (-) and underdogs (+) are represented by their moneyline betting odds. When betting on a favorite, you must lay more than what you would profit, while taking the risk on the underdog comes with a higher payout than what you wagered.
Article: Moneyline Betting Odds Explained
NFL Over / Under Bets Explained - Total # Statistical Wagers
Another straightforward way to bet on the NFL is through point totals or over/under bets. These can be broken down by each team, but the numbers you often here on sports betting shows and news is the combination of both teams. Often, these point totals are the most common style of wagering, as bettors can gain insight on certain team's scoring abilities, defensive prowess, and offensive tempo. Payouts are typically right around "Even" money (minus the juice) because there are just two choices... over or under.
Article: Over / Under Betting Odds Explained
Weekly Game + NFL Team Proposition Wagering
Outside of game lines, oddsmakers form what are called proposition betting odds. These are other types of betting lines formed that are not betting on the outcome of the game specifically. In fact, NFL team prop betting lines can range in nature quite a bit. For example, in an NFL matchup, a team prop line might be formed asking which team will score 10 points first. The wager would be made on one of the two teams and whoever reaches this mark first dictates the winner of the prop bet. After the proposition is met, the wager is done and the rest of the game does not matter. Other examples include how many total sacks both teams will tally, what the longest field goal of the game will be, and so on. Team Prop odds are a fun way for bettors to place wagers on outcomes outside of the game lines.
Understanding How NFL Player Proposition Wagers Work
NFL player prop lines are another type of proposition betting line. And just like team props, these do not directly relate to the outcome of an NFL matchup. They can have an effect, but that is not what you are wagering on. A player prop NFL line is typically performance-based. For example, the total passing yardage for a quarterback, or the number of touchdowns a running back will have in a game, are two examples. A betting line would be set with an installed number, and the wager would be made according to the guidelines of the bet. NFL player props can be a lot of fun, with tons of them formed for the different games each week.
Understanding NFL Live Betting Odds
One of the newer types of betting onto the scene in NFL betting is Live Betting. Live Betting has become one of the more popular aspects, with the technology that online sportsbooks possess. Live Betting on the NFL can be done from your own computer, mobile device, or in-person at a sportsbook that offers it. In short, instead of placing your bet at the beginning of the game and awaiting the outcome, live betting allows you to place action on a game at any moment during that game. Odds, spreads, and point totals are all available but will constantly be changing as each second of the clock influences the betting lines. Live wagering on the NFL is the most interactive form of betting yet and can be very exciting. In this style, being informed and confident are requirements as getting in at the right time is half the battle.
Betting Odds For The Super Bowl + Online Wagering Guide
Super Bowl betting odds for the upcoming or current NFL season are up almost year-round at online sportsbooks. In fact, almost the day after the Super Bowl from the previous year is completed, oddsmakers form odds to win the next season's Super Bowl. And these odds remain up through offseason, preseason, and the regular season up until the Super Bowl matchup is known.
The different ways to bet on Super Bowl odds can be very simple or they can be slightly more involved. It's not always just betting on the team that you think will win the Super Bowl. No, no sir! There is much more to take in and even the odds to win the Super Bowl can change drastically from week to week.
Get More Help: Super Bowl Odds Explained
NFL Wager Types
There are several different types of NFL bets that can be made on a game. Oddsmakers form game lines, but the type of bet you choose to make is up to you. There is the straight bet which is your basic bet on a game or prop. But then there are bets that link multiple games together like a parlay or and if bet. There are also bets that can switch up the betting lines like a teaser or a pleaser. Get more help learning about those here:
Parlays | Teasers | If-Bets | Pleasers | Straight Wagering
Bovada Sportsbook - Top SportsBook For NFL Games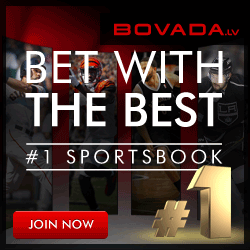 With the games just now starting and the season just now beginning, the NFL is one of the most exciting sports that players look to watch and love to bet on. This is why all players on SportsBetting are cashing big on their accounts. The point spread and betting odds on NFL games are huge and shown to be very profitable. The banking methods here are also easy for players to deal with and makes it simple for them to transfer money on to their account and get them ready for NFL games.
Prop bets and point spreads stick out on SportsBetting as a few of the top betting options there for players as they get ready to make money. The NFL Season is so long so there is money that can be won a lot throughout the season and also throughout the game using the live betting option. SportsBetting is known to have a lot of sports to wager on but when it comes to NFL games, players' eyes get big and wallets get bigger as well.
BetOnline Sportsbook - NFL Games At The Top For BetOnline Players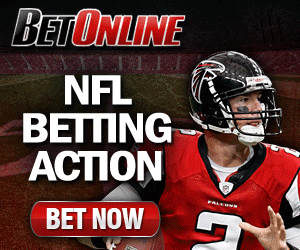 Take the first step and sign up for BetOnline as you will not regret it! The NFL season is just now getting started so this is the best time for players to have their account created and be able to join in on the fun of making a lot of money. The betting odds are the best here on BetOnline as you will find great point spreads, and moneylines all the time with different games.
Prop bets and mobile betting features are here as well and players love to use these betting options. The money that can be one is huge and all players have to be is 18 and older to sign up for an account with BetOnline. When players see the point spread here and also the Moneyline, they are very excited because of how much money they can see themselves winning. BetOnline has it all and this is where all players come to play and win huge!
MyBookie Sportsbook - NFL Fans Love MyBookie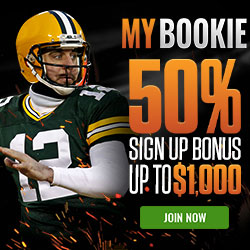 When it comes to placing bets on the most exciting sport out there, MyBookie is the answer for most players. This online sportsbook has all the things that players look for an that is especially for NFL games. Fans have their favorite teams and most of the time there are a lot of prop bets for each game so this means that fans will stay happy with betting options here for players. This is just where the knowledge that they can spend money and have a chance to make more money while they watch their favorite team.
The live betting option is one that players do not need to look over. There always NFL games going on and these games turn once the second half starts. This is what makes games so exciting. Players can start off cold and get hot the next half and if a player puts the right bet down on them, the money will easily flow their way. MyBookie Sportsbook is known to many players as one of the better sportsbooks and the NFL games that they offer makes it even better!
Where Should I Bet On NFL Online? Who Can I Trust?
| Sportsbook | Deposit Bonuses | USA? | Visit Sportsbook |
| --- | --- | --- | --- |
| | $250 Max - 50% Match | All States - ex. DE, MD, NJ, NV, NY | |
| | $1,000 Max - 50% Bonus | All States - ex. NJ, NV, NY | |
| | $1,000 Max - 50% Bonus | All States - ex. NJ, NV, NY | |
| | $1,000 Max - 50% Bonus | All States - ex. NJ, NV, NY | |
| | $300 Max - 100% Bonus | All States | |