2022-2023 NBA Finals Champion Odds
Every year, 30 NBA teams compete through an 82-game season for a chance at the playoffs and, ultimately, a shot at an NBA title. Out of the 30 teams that start the season, only 16 make it to the playoffs and only four teams are left come the conference championship games. The 2022-2023 NBA season will be headlined by new super teams that were formed in the offseason that completely shifted power in the West.
As far as the Eastern Conference is concerned, MVP Giannis Antetokoumpo and the Milwaukee Bucks looks ready to reach the NBA Finals after being dominated in the Eastern Conference Finals last year against eventual NBA Champion, Toronto Raptors. Kawhi Leonard now resides in Los Angeles as a Clipper, leaving Toronto at the mercy of Milwaukee at the start of 2019.  Bettors nationwide will be all over the sportsbooks this year as it finally looks like the NBA will have much more even teams this year as opposed to the super teams in year's passed.
2022-2023 NBA Championship - Odds to Win
Los Angeles Lakers

+300

Los Angeles Clippers

+325

Milwaukee Bucks

+550

Houston Rockets

+850

Philadelphia 76ers

+850

Golden State Warriors

+1000

Utah Jazz

+20000

Denver Nuggets

+1800

Brooklyn Nets

+2200

Boston Celtics

+2500

Portland Trail Blazers

+3000

Toronto Raptors

+3000

Indiana Pacers

+4500

Dallas Mavericks

+6000

Miami Heat

+6000

New Orleans Pelicans

+6000

San Antonio Spurs

+6000

Orlando Magic

+10000

Oklahoma City Thunder

+12500

Atlanta Hawks

+15000

Sacramento Kings

+15000

Detroit Pistons

+17500

Minnesota Timberwolves

+17500

Chicago Bulls

+20000

Memphis Grizzlies

+20000

New York Knicks

+20000

Washington Wizards

+25000

Charlotte Hornets

+30000

Cleveland Cavaliers

+30000

Phoenix Suns

+30000
2022-2023 Eastern Conference Champion Odds
Unlike in recent years, the Eastern Conference in 2019 will be quite a competitive group. The Milwaukee Bucks, led by MVP Giannis Antetokounmpo, are hands down favorites (+150) to win the East in the wake of Kawhi Leonard's departure from Toronto this offseason. The Philadelphia 76ers are once again back at it with their young duo of Joel Embiid and Ben Simmons locking in the 76ers and second-best odds (+240) to win the East. Down a little further, the Boston Celtics and the Brooklyn Nets are tied for 3rd with +750 to represent the East in the finals.
The Celtics, who acquired Hornets' star Kemba Walker in free agency, now have a formidable nucleus of Walker, Jayson Tatum, and Jalen Brown. The Brooklyn Nets (+800) on the other hand may have been the winners in free agency after landing both Kyrie Irving and Kevin Durant. After the Toronto Raptors, who also hold (+800) odds to win the conference, the East gets considerably weaker in terms of talent.
2022-2023 Western Conference Champion Odds
Being that it's usually the case, the Western Conference in 2019 will be loaded with talent that's typically lacking in the Eastern Conference. With the Warriors being the team to beat for a little under a decade, the West has seen a transformation in the NBA landscape this past offseason. The Clippers will begin the season with the best odds (+225) to win the West after securing both Kawhi Leonard (fresh off a Finals MVP run) and star forward, Paul George. The cross-town Lakers are in a close second (+350) after Lebron James teamed up with Pelicans superstar, Anthony Davis, this offseason.
The Houston Rockets are tied with the Lakers at (+350) after a mega trade that sent James Harden's former teammate, Russell Westbrook, to Houston and Chris Paul to Oklahoma City. After that, the odds don't look nearly as close. The Golden State Warriors, after losing Kevin Durant to free agency, are tied with the Utah Jazz at (+800) to win the conference with the Denver Nuggets (+1000) and Portland Trailblazers (+1000) not far behind.
NBA Playoffs Betting Odds Explained
For the most part, NBA playoff betting is exactly the same as NBA regular season betting. However, there is one distinct and meaningful difference: quantity. After the NFL playoffs and March Madness, the NBA Playoffs is the most bet-on sports tournament in the country, which means that it brings in a lot of casual betting action that probably wasn't there during the regular season. As such, most sportsbooks increase their wager limits for NBA Playoffs betting, and there are multitudes of playoff-specific props in addition to the old standbys you're used to. Those standbys, of course, include point spreads, straight moneylines, totals (a.k.a. over/unders), alternate lines, props, futures, and more.
As the most popular bet type, the point spread is what you're probably most familiar with. The spread simply "gives" points from the favorite to the underdog, evening out the betting on both sides (which is how a sportsbook reliably maximizes its profit). For example, if the Cavaliers are listed as 6.5-point underdogs (shown as +6.5 on betting boards) to the favorite Warriors (shown as -6.5), that means they can lose by up to 6 points and still win the bet. Similarly, the Warriors must win by at least 7 points to cover the wager. (Sportsbooks often use half-points to eliminate the possibility of a "push," for which bets are typically refunded.)
Also popular, the straight moneyline eliminates all handicapping, and bettors simply pick a team to win. In the above example, the underdog Cavaliers might be listed with a +135 moneyline, while the Warriors, as favorites, might be -165. These numbers reflect the ratio of wager-to-winnings for a given pick. If the number is positive, that's the amount you win on a $100 bet. If the number is negative, that's how much money you have to lay down to win $100. Here, if the Cavs win, you'd win $135 per $100 wagered; if the Dubs win, you'd get only $100 for every $165 wagered. (Remember, you can always bet less than these amounts, but the payout ratio will be the same.)
The totals bet, or over/under bet, is the last and simplest of the standard wagers. Here, sportsbooks publish a single number, and bettors must choose whether or not the combined point total for both teams goes "over" or remains "under" that number. If the O/U for the Cavaliers vs. Warriors is 227.5 points and the final score is 117-106 (223 combined points), the "under" bet wins. If it's 115-114 (229 combined points), the "over" bet wins.
2022-2023 NBA Finals Betting FAQs
Is It Legal To Bet On The NBA Playoffs?
Yes. Every legal sportsbook in the United States offers odds on the NBA Playoffs. Obviously, legal online sportsbooks are way more convenient for just about everyone, and experts estimate that over 90% of all NBA playoffs betting goes through these services. You can wager at state-licensed mobile apps (which are few and far between and only for residents) or bet offshore.
Can I Be Arrested For Betting On NBA Playoff Basketball
While anything is possible, nobody has ever been arrested for betting on NBA Playoff basketball – with the obvious exception of Tim Donaghy. So as long as you're not operating a sportsbook on US soil or employed as an NBA referee, it's perfectly legal and perfectly safe to bet on the NBA Playoffs.
Where Can I Bet On The NBA Playoffs?
There are literally hundreds of online sportsbooks available to US customers. However, Bovada, BetOnline, SportsBetting, and 5Dimes are the best legal online sportsbooks to use if you live in the US. Bovada is perhaps the most reputable sports betting site on the Internet. They're also the only large sportsbook to accept American Express, which probably makes a difference to many gamblers.
However, BetOnline and SportsBetting actually take more forms of payment (and offer more types of payouts) than any other online sportsbooks. They also support Litecoin in addition to Bitcoin, which is unique among the premier service providers.
Last but not least, 5Dimes is where you want to go for unique NBA playoff prop bets and alternate lines, as they tend to break down games much further than most other sites. Ideally, you should sign up at two or three of these legal online sportsbooks in order to most effectively shop around for the best NBA playoff bets.
What Is The Best Site For NBA Playoffs Betting?
Bovada is, without a doubt, the single best site for NBA Playoffs betting. If you're only willing to sign up at one online sportsbook, Bovada deserves your business. They offer fair odds, comprehensive betting menus, timely updates, and have a customer-centric business model second to none. They've never even missed a single payout! Their mobile website is also fast and responsive, so you can easily and securely bet on the NBA Playoffs wherever you go. Bovada offers new members a $250 Welcome Bonus, a $5000 Bitcoin Welcome Bonus, and a host of other benefits through their Bovada Rewards program.
Unfortunately, Bovada has one caveat: It is the only large sportsbook that doesn't do business in all 50 states. If you live in Delaware, Nevada, Maryland, New Jersey, or New York, you cannot sign up at Bovada. However, BetOnline, SportsBetting, and 5Dimes each do business in every state (including the above), so there are some pretty great alternatives if you can't sign up with Bovada. Both BetOnline and SportsBetting offer new bettors a 50% Welcome Bonus and 100% Bitcoin bonus in addition to their usual deposit and membership perks. 5Dimes also offers a selection of bonuses to new and returning users.
What Is The Best Deposit Method?
The best sportsbook deposit method will depend on the bettor's individual preferences. The main thing to remember is that depositing money into a legal online sportsbook takes time. Different methods take different amounts of time, of course, with electronic transfers (credit/debit/crypto) being faster than more traditional paper methods (personal checks, wire transfers, money orders, etc.) If you need money in your account ASAP, the best method is to use a credit card or debit card. Visa and Mastercard are accepted at all major online sportsbooks, and you can even use Visa gift cards. These transfers are more or less instantaneous, and you can be betting on the NBA Playoffs just a few minutes after submitting payment.
The best deposit method, however, is a cryptocurrency – in this case, Bitcoin. Bovada, BetOnline, SportsBetting, and 5Dimes all accept Bitcoin, and Bitcoin transactions are far safer and more secure than any other method available. Bitcoin is also great if you want to keep your NBA Playoffs betting private, as it takes "paperless" to a whole new level. Bitcoin has the added benefit of being an unrestricted currency, which allows it to fluctuate significantly over short periods. If you play it right, you can substantially increase your sports betting winnings just by making your wagers and/or taking your payouts in Bitcoin.
Top NBA Finals Sportsbooks
Bovada Sportsbook - Bet On NBA Finals With Bitcoin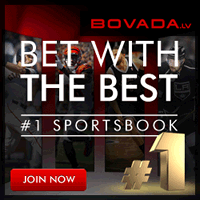 If you've ever placed wagers on sports online before, odds are you have heard of Bovada as they are probably the biggest name in the sportsbook industry. They offer countless wager opportunities on any sport you are a fan of, including the NBA playoffs. They offer a bevy of different wagering types and keep up to date odds as to help players not miss out on any chances. In fact, Bovada even has live betting odds for every NBA playoff game. This allows players to bet on games that have already begun as to help you feel a little more comfortable with the team you are betting on.
The opportunities don't stop there. Bovada also has mobile betting, bonus opportunities, 24/7 customer service, and much more that you will have to experience to believe. So don't waste any more time and sign up for your account at Bovada Sportsbook today. It takes just minutes to get started and in no time you will be winning big betting on your favorite NBA playoff contenders or pretenders.
BetOnline Sportsbook - Bet On The NBA Finals From Your Mobile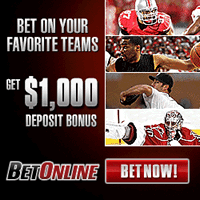 BetOnline is an easy option to choose when deciding on an online sportsbook to use for all of your NBA playoff betting odds needs or any other sport for that matter. They have everything you could possibly be looking for in a legal online sportsbook including a variety of betting odds, banking methods, and wager types. They even offer mobile NBA playoff betting odds that are as up to date as it gets. This feature allows you to place bets through your smartphone or tablet, essentially making online betting even more convenient than it already is.
The sportsbook at BetOnline has been providing quality service as well as an incredible quantity of betting opportunities for years now and they are no brainer if you are deciding on a sportsbook to frequent. Sign up today and take advantage of their welcome bonus of 50% of your deposit all the way up to $2,500. That's just one of the many benefits you will receive when betting at BetOnline.
SportsBetting Sportsbook - Lifetime Deposit Bonuses For NBA Bettors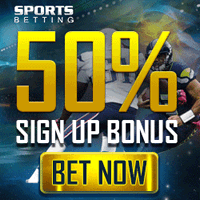 The Sportsbook that SportsBetting offers is a lot similar to the one you will see at BetOnline Sportsbook. This is because SportsBetting is actually owned by BetOnline so they use the same approach to their sites. This sale took place in 2012 and ever since then SportsBetting has risen up the ranks of one of the best sportsbooks on the market and NBA fans looking to bet on the playoffs, this site has you covered. Not only do they have all of the features you look for in a sportsbook but they also offer lifetime deposit bonuses for NBA bettors. That's something you will be hard pressed to find at another sportsbook.
Getting started at SportsBetting Sportsbook is easy, just create an account by entering some basic sign in information like your name, age, a copy of your ID, and things like that. From there you can choose your favorite method of banking to deposit some money into your sportsbook and you are free to begin your betting experience. SportsBetting is ready for you to join and win big so get started now.
| Sportsbook | Deposit Bonuses | USA? | Visit Sportsbook |
| --- | --- | --- | --- |
| | $250 Max - 50% Match | All States - ex. DE, MD, NJ, NV, NY | |
| | $1,000 Max - 50% Bonus | All States - ex. NJ, NV, NY | |
| | $1,000 Max - 50% Bonus | All States - ex. NJ, NV, NY | |
| | $1,000 Max - 50% Bonus | All States - ex. NJ, NV, NY | |
| | $300 Max - 100% Bonus | All States | |