SportsBetting.ag Review + Betting Odds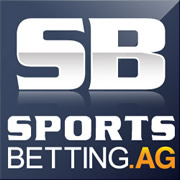 Sports odds are what you will find in bulk when you choose to visit SportsBetting. It's clear and to the point what this online sports betting site is about. SportsBetting provides their account holders with some great and numerous opportunities to bet on many of the most popular sports leagues in the United States and around the world. SportsBetting odds provide great payouts, and give bettors a chance to place a variety of different wagers, ensuring that bettors who like different things all have the chance to do so.
You will get a crash course as to what betting lines and wager types can be found at SportsBetting and explanations along with them. In addition to information on the betting odds, there will be a topics examined that all relate to sports wagering at SportsBetting as well. This includes starting at the beginning with how to sign all, and ultimately concluding with the payout methods and how a player makes a withdrawal after betting. Everything in between is gone over as well, so you can expect a complete rundown of this site.
Does SportsBetting Allow U.S. Players? - Who Can Bet On Sports There?
American sports bettors of legal age to bet in their state are allowed to play at SportsBetting and create an account. There are no limits as to the states that are accepted, with all 50 eligible to join here. SportsBetting is arguably the most American-friendly sports betting site out there, so they definitely want U.S. bettors at their site.
SportsBetting Lines + Betting Odds Types
There are a lot of different kinds of betting odds that are offered at SportsBetting but each type can be broken down into easy-to-understand categories. This way, bettors will be able to recognize what they are looking at, and furthermore, recognize which betting odds that they might prefer to place a wager on.
Game Lines - Normal Day-to-Day Wagers On Individual Games + Matchups
Most who are familiar with sports betting odds should be able to recognize the parts that make up a game line. SportsBetting features tons of game lines in all of the sections of sports that are offered. There are three components to the game lines offered in SportsBetting.ag's sportsbook. They are the point spread, the moneyline, and the game total.
Point Spread - Bet on a team to beat the spread at SportsBetting. What does this mean? Well, games will come installed with a handicap system called a spread. This game evens the playing field for teams perceived not to be equal. The spread allows for the bettor to place a bet on beating that betting line, versus picking the outright winner of the game.
Moneyline - The point spread leads right into the moneyline, especially when talking about the outright winner of a game. Bettors should be able to recognize moneyline wagers as they are marked by a plus "+" or minus "-" symbol that precedes them.
Total - The total doesn't have to do with wins and losses and who is going to beat who. At SportsBetting, you will be able to wager on the total for a game, whether it be runs for baseball, goals for soccer and hockey, or points for most other sports. The bet is made on a higher or lower total than what the game total line has been set by SportsBetting oddsmakers.
Future Betting Odds - Big Payout On Small Investment Make These Popular
Futures bets are some of the most fun betting lines to wager on at a sportsbooks. SportsBetting is loaded with great futures wagers. Futures has its own section at SportsBetting, for which you will notice break down into sports, and then from there into the different leagues. Clicking through the futures odds will present you with what is offered. Oftentimes there will be championship betting lines, where all teams in the league are given odds. Futures odds can be wagered on whether a sport is in season or not in most cases. They stay relatively consistent out of season, but during the year can change quite often.
Proposition Odds - SportsBetting Is The Best On All Types Of Prop Wagers
Like the other major online sportsbooks, SportsBetting.ag breaks down their prop odds into separate sections for both player and team/game proposition wagers. Wagering the prop odds at SportsBetting is very fun because there can be more freedom when looking for a winning wager within a game; betting a prop likely means the bettor isn't relying on a particular team to get the victory, or even win by a certain amount, which can be very difficult to project over the course of a game. Beyond all of what normally makes prop wagers so much fun, SportsBetting is known for having lots of unique props that often can't be found with other sportsbooks, online and even land-based too!
Team Prop Odds - There can be dozens of team prop betting odds for one game alone, so when you expand upon that you can think of how many games are played in sports throughout the year, and then how many prop odds can come along with those. Team prop odds don't have a strict set of rules of what they have to be, which can make them feel fresh for SportsBetting account holders.
Player Prop Odds - The performance of a player in a game or during the course of a season is the general definition of a player prop betting line. SportsBetting has no shortage of player prop odds that are offered here. In fact, all of the betting lines are available to view even without an account.
In-Play Game Lines + Odds
If bettors don't make a wager in time, or maybe they want to see how the start of a game goes before getting in on the action the in-play section at SportsBetting is the place they will want to come. Odds are re-adjusted and reformed with games progressing, giving more betting opportunities. SportsBetting is an industry leader in the amount of betting chances that can happen for a given game, which is certainly a reason it's so popular.
SportsBetting Provides Online Betting Opportunities On These Sports:
NFL Football | College Football + Basketball | NBA | MLB | NASCAR | UFC | PGA Golf | Soccer | Tennis
SportsBetting Wager Types + Options
What wagers you can make at SportsBetting are important to cover as well. So in addition to the betting odds, we want to make sure that bettors are informed about what bets SportsBetting allows their players to lay down real money on.
Straight Wagers - All of the bets mentioned so far can be considered a straight bet. If a wager is made against the spread, that is an example of a straight wager. A dollar amount is laid down on one bet where it either wins or loses.
Parlay - Payouts can be high with parlays depending on how many bets are in on the action. The more bets in a parlay, the higher the payout. For a parlay to win, all of the bets made within that single parlay will have to hit, which would then pay the designated amount.
Teaser - Sometimes the point spread of a game might not be to your liking. This is where a teaser comes into play, available at SportsBetting for a couple of sports. A teaser enables the bettor to sacrifice a portion of a payout in order to move that bet more favorably towards the line.
If-Bet - An if-bet wager is a type of linked wager as well, in the same family as a parlay. The first bet in an if-bet wager has to hit for the wager to stand any chance of winning. If that happens, bettors can continue down the train of if-bets until they want to stop.
Reverse - The if-bet is a part of a reverse wager in the sense that the winnings from the previous wager will carry over if the wager is won. The difference here though is that a reverse bet will include the opposite as well, with double action on tap.
Round Robin - This type of wager allows for several parlays to get in on action at the same time. Between three and right teams can be selected for a round robin at SportsBetting.
Other Ways To Wager On Sports: SportsBetting Has Live Sports Betting!!!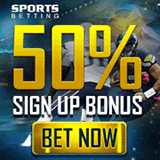 For some exciting betting action right as things are happening, SportsBetting gives players the chance to place live bets on games. Live bets can cover alternate game lines, team props, player props, and game props. The sky's the limit as to what the next betting line coming out of a game might be.
Live sports gambling used to be only a few games per week that would be available to wager live, but that has been increasing. SportsBetting now offers among the most live betting lines online than any other sportsbook will have for their players.
Important Details To Consider Before Joining SportsBetting
This is the third section of our important parts, because like we said at the onset, while the odds are very important there are other factors as well. Among these important factors, you readers will gain an understanding of how to play at SportsBetting outside of recognizing the odds and selecting the type of wager you want to make.
SportsBetting Wager Limits - Fair If Not Generous, Subject To Player Status
There are not unlimited bets that can be made at SportsBetting in terms of how much money can be placed on a single bet. In fact, the dollar amount varies by the sport you are interested in, the betting line, and the wager type. But the good news is that SportsBetting.ag lays it out in an easy-to-understand table under their rules and policies section on site, so be sure to visit that if you have further inquiries.
Getting Money In + Out Of SportsBetting - Deposit + Withdrawal Options
Depositing and getting paid out is something that bettors shouldn't have to worry about at an online sportsbook. This is exactly the case at SportsBetting. With some great deposit options to get your account going and bets to be made, SportsBetting ranks among the best. And in terms of the payouts, they are fast, safe, and reliable. SportsBetting has an entire department dedicated to both deposits and payouts to answer any questions. Complete listings of available methods are on site.
Deposit Bonuses + SportsBetting Player Promotions
Receive up to $900 on every deposit made in your SportsBetting account if you so choose. The deposit bonus breaks up into two different categories. There is a bonus for a credit card deposit, and a bonus for other deposits. The credit card option receives a 15 percent match up to the maximum of $900. The cash deposit bonus earns bettors 25 percent. So there is a bit of incentive to use other methods, but the credit card deposit remains most popular to fund an account.
There are different rewards programs and promotional offers that are found at SportsBetting during the year. SportsBetting likes to reward their account holders with free cash and prizes so it's advisable to always be on the lookout for them.
Other Features Available When Betting At SportsBetting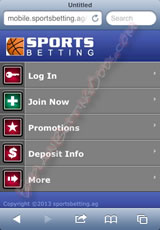 Mobile Sports Gambling, Betting On Sports Through Your Phone - Take SportsBetting on the road with you, as there is the mobile betting feature that can be used. This option can be accessed by a wide variety of mobile devices and is very user-friendly to navigate through the odds. Bettors can even sign up and start their account through their mobile device. There are no restrictions as to what can be viewed here.
Casino, Poker, Horse Racing - What you also might notice when visiting SportsBetting is the fact that it has a casino, poker room, and a racebook for bettors to get in on. The casino is a full casino with a variety of different games. The same can be said for the poker room as well, with more than $160,000 per month in prizes available across all their tournaments including sit n go tourneys too!
Ready To Sign Up At SportsBetting? Here Are The Details...
If you are looking to join SportsBetting, know that it is very simple to do. It won't take long, and once your account is verified, you will be able to fund your account and get underway to making real money wagers on all of your favorite sports and leagues. For any questions about SportsBetting, they can be answered by the customer service staff reached by phone or through email.