Futures And Future Betting Odds Explained
If you are familiar in the least bit with sports betting, you know that it's not just about game lines and point spreads that can be wagered on. In fact, that is just the tip of the iceberg. The fact of the matter is that online sports betting covers a great range of lines and odds that are available all year long.
One of the most popular types of betting line out there is the futures wager. Futures odds cover just about every sport, and formulate odds that are specific to championships in a particular sport. We cover everything about future betting lines throughout this section and what ones you can find when looking at different leagues.
What Are Future Betting Odds?
In simple terms, future odds are betting lines formed well in advance, usually for championships, or some sort of title on the line. Futures odds can be formed months and even sometimes years in advance depending on the event. For example the World Cup in soccer can see futures wagers up four years prior. Most odds like that are not that far in the future, but that is just an example of what it could look like.
Among the most popular futures lines are Super Bowl odds, World Series odds, BCS Championship odds, and things along those same lines. You can see a theme of a championship, and overall odds to win a future event. Think of futures as a grand-scale betting line, predicting big outcomes down the road.
Understanding Payouts When Betting On Futures
One of the things about futures betting lines is that they can be some of the highest straight wager payouts of all. With the fact that wagers are made on predicting outcomes well in advance, payouts can range quite a bit. A bet can be paid down months in advance, and you can see that team's odds fluctuate quite a bit. But the good news is that once you lock into that bet and place it, you are good for that payout no matter what the betting line does the rest of the time up until the outcome is decided.
Payouts for futures will largely depend on the sport and which event is being bet. You can see favorites be at even money or better, or sometimes have 10 or 20 times that payout. That's one of the neat things about the odds for futures, is that the potential to make a nice profit on favorites is there.
NFL Future Betting Odds Explained
Futures wagers and odds for the NFL are led by bets to win the Super Bowl. Odds for all 32 teams will be formed a year in advance and kept up most of that time. They bounce up and down as the season goes and are up through the elimination of teams on into the playoffs. But it's not just Super Bowl odds that are found. Other features include odds to win the NFC or AFC, as well as division odds that are formed.
Article: How To Read NFL Betting Odds
MLB Futures Explained
When it comes to MLB, there is on futures betting line that stands out above the rest. That would be the Fall Classic; the odds to win the World Series. Formulated hours after the completion of the World Series from the previous year, the futures odds for the World Series are up even in the offseason. Then other futures wagers include lines for the AL and NL Pennant and division betting lines. You will certainly notice trends among the teams and their odds in each line of futures.
Article: How To Read MLB Betting Odds
College Football Futures Explained
There are several futures odds that come up when talking about college football. National championship betting odds lead the way, as that is the biggest question every year. Bettors can cash in on some big profit should they get it right. But bets don't have to be made in the offseason. National championship futures are updated weekly at sportsbooks as well. What you find most often during the preseason are conference championship and division lines. Those are found less often during the season.
Article: How To Read College Football Betting Odds
College Basketball Futures Explained
The national championship tournament in college basketball is one of the most fun sporting spectacles to watch, and odds to win it are formed right after the national championship is decided from the previous season. Aside of championship futures at the national tournament, conference regular season, and conference tournament futures are up at different times during the season as well.
Article: How To Read College Basketball Betting Odds
NHL Futures Explained
The eye on the prize of Lord Stanley's Cup is the dream of an NHL team. And the dream of an NHL bettor is to correctly wager on the winner of the Stanley Cup through the futures odds installed by sportsbooks. Futures odds start at the beginning of the season, but are also formed prior to the start of the playoffs. Let's not forget that as the season progresses, Stanley Cup and conference odds are routinely updated at various times.
Article: How To Read NHL Betting Odds
NASCAR Futures Explained
There are a couple of different things that you could see on NASCAR futures odds. The first that is a staple among them are the odds to win the Sprint Cup Championship. This is the season-long point's race for the NASCAR Sprint Cup Series. This is the most commonly found futures wager, but outside of that other big races well in advance can be found. Races like the Daytona 500 to start off the season are sometimes seen.
Article: How To Read Nascar Betting Odds
PGA Futures Explained
The PGA Tour doesn't have a championship to decide, so things are a bit different. Well, there is the FedEx Cup point's race which has a champion that futures field wagers on. But the majority of focus on PGA futures centers on the four Major Championships during the season. You can see these a year in advance. Other futures for the PGA can include the odds to win the money list for the season as well.
Article: How To Read PGA Betting Odds
UFC Futures Explained
UFC futures might feature the least amount of all. But there can be some. Fight lines for future fights go in the category of upcoming events. What futures odds can have for the UFC are odds for fights that we hope to see at some point down the line. You likely won't see a fight line, but you can see a bet on whether or not a certain fight will take place by a certain date.
Article: How To Read UFC Betting Odds
Bovada Sportsbook - Best Sports Betting Site For Betting On Futures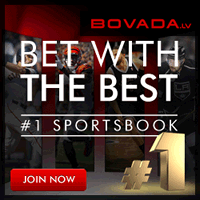 If futures odds are what you seek, then Bovada Sportsbook is your go-to source. Futures odds for every sport and league on site have a section dedicated to them. Bovada has arguably the most comprehensive selection of different futures for their bettors. Whether you are trying to find Super Bowl betting lines, Stanley Cup odds, or BCS Championship odds, Bovada has it all and then some.
Signing up with Bovada is as easy as 1, 2, and 3. All that is needed is a few pieces of basic information to open your account, complete with a login. To bet real money, depositing can be done in a multitude of ways. The most popular form of deposit is Bitcoin. They are a fast way to fund an account as well as the most secure. They are also free to use. Currently, Bovada has a new member bonus of an initial deposit match of 50%, up to $250 is free bets. That's extra bets you'll have to place on futures or anything else you'd like.
| Sportsbook | Deposit Bonuses | USA? | Visit Sportsbook |
| --- | --- | --- | --- |
| | $250 Max - 50% Match | All States - ex. DE, MD, NJ, NV, NY | |
| | $1,000 Max - 50% Bonus | All States - ex. NJ, NV, NY | |
| | $1,000 Max - 50% Bonus | All States - ex. NJ, NV, NY | |
| | $1,000 Max - 50% Bonus | All States - ex. NJ, NV, NY | |
| | $300 Max - 100% Bonus | All States | |