Team + Game Proposition Bets Explained
One of the most popular sets of betting odds out there are team and game prop betting odds. These betting lines will cover many different outcomes within the team setting in terms of the entire season, while game props will relate to specific matchups. Team and game prop odds are different from the game lines that are formed; meaning the point spread, moneyline, and over/under total is another category of betting.
Different Types Of Props For Teams + Game Performances
Similar to player prop odds, team and game props also come in the form of two general concepts. One type is based on statistics and specific performances within the construct of a game, while the other takes on the version of a season-long achievement. You'll get a good understanding of what is meant by this in the following sections.
Game + Team Performance Props Based On Statistics
The majority of team and game prop odds that you'll come across fall into this category here. These are betting lines formulated for individual matchups can be attached to several different statisical areas that cover all facets of the game including offense + defense. One of the popular types of team props used in many matchups will ask users to place a wager on which team will score the first points in the game. This is a good example because it extends to several sports however it is just a small fraction of the kinds of team proposition wagers that are available online.
In football, the first score is a widely used game prop. This proposition asks what type of score that will occur first during the course of a game... will it be a touchdown, field goal or even a safety can be used. Translate this across other sports and you would find that basketball would have the option of free throw, 2-pt field goal or a 3-pt field goal.
Team Prop Wagers Based On Season Long Achievements + Accomplishments
Team prop betting odds formed at the beginning of the season can be considered achievement betting lines. One of the best examples of this would be the formation of over/under win total for teams, or even whether or not that team will make the playoffs / post-season heading into their respective seasons. These are not unique to just one sport, as many will have these odds formed.
In the NFL, oddsmakers will go down the list and form an over/under win total for all 32 teams. The bet is made on that installed total from oddsmakers and whether or not the real win total of the team will go above or below that benchmark. This is a season-long prop meaning that the payout won't be awarded until the end of the regular season.
When + Where Can I Make Wagers On Team / Game Prop Odds
With team and game props being so widely used, all sports will have some form of betting line similar to these formed. Sports with more games will have more props available. For example Major League Baseball will have many more than the NFL because there are 162 games in the season versus just 16 however the NFL is a bigger draw than betting on MLB baseball so there is a chance you could actually see equal numbers despite the disparity in regular season matchups.
When it comes to big events, the online sportsbooks shown below are some of the most visited on the web simply because they have the proposition bets that intrigue sports fans... the ones that are entertaining enough to bring even the casual sports gambler to the window to drop a bet. As always, we encourage you to stick with these websites as we cannot attest to the quality + integrity of other online betting portals that we have NOT tested.
Bovada Sportsbook - A Must Visit If You Are Betting Team Props Daily / Nightly / Weekly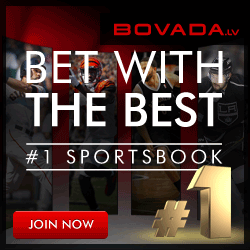 For practically any kind of sports betting line, Bovada is a sportsbook that must be considered even if you are just wanting to put a dollar or two on the over/under first downs made by your favorite team versus their rival. That's just another small example of what can be found in this segment, but you should know that this sportsbook has that plus everything else we mentioned and a lot more that we didn't have time to get to on this page.
Bovada has long been a leader in this industry and is backed by an international conglomerate that has come too far to pack up and go away... one that is too respected to do wrong by their users. It takes just a minute to sign up at Bovada and you can be wagering real money on sports in minutes.