UFC Betting Odds Explained
There is no question that one of the fastest-growing sports in the world has been mixed martial arts, and the Ultimate Fighting Championships have been the cornerstone to that growth. With the popularity of the sport, it's no surprise that more and more betting odds have followed that growth. UFC wagering odds routinely produce great interest with the main card fights, highlighted of course by the main events and title fights that are held every few months all over the world.
Bettors can cash in via a number of different wagers to each fight, from the overall fight winner to props such as how and when a particular fight will end. While that might sound like a lot to process, don't worry – we explain it all on this page so that when the next UFC event comes up on the schedule, you will be ready to make an informed and profitable bet on the action.
Bovada Sportsbook - All Lines On UFC Action!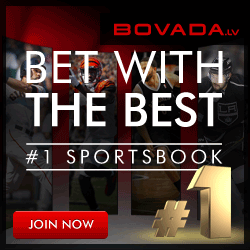 Perhaps the best site to wager on UFC action is the best sports betting site in general, Bovada. Bovada's been in business for nearly two decades, with a management team that traces its pedigree back to the very beginning of Internet sports betting. Located overseas and 100% for US residents to access and wager with, Bovada's UFC lines are second to none. In addition to offering the standard odds on main fight cards, Bovada is one of the rare books that also has full coverage of the UFC's less-sought-after undercards, where super dedicated fans can take advantage of their intimate knowledge of the fight game.
New members who sign up at Bovada now can get access to the site's exclusive 50% Sports Welcome Bonus worth up to $500. Additionally, members can use this extra money to wager in other areas of the site, like Bovada's world-class poker rooms and casino parlors. Bovada also offers a $5000 Bitcoin Welcome Bonus for those who wish to fund their accounts using the world's most popular and secure cryptocurrency. Best of all, singing up at Bovada is always completely free, and the online bookie has never missed a single payout to any of its tens of millions of American customers. (Note: At this time, Bovada is not available to residents of DE, NV, MD, or NJ.)
UFC Fight Odds Explained
The most basic betting element of any UFC match comes down to the odds for either fighter to win the contest. This will be a straight moneyline, as no handicapping "point spread" is needed here. You simply pick a winner, risk whatever amount of money you wish, and if your guy (or gal) wins, you're paid at the moneyline's advertised rate.
Of course, one of the things you might want to consider is the fact that different sportsbooks almost always have different payouts for fighters in any given event. Thus, it makes good sense to be a member at several books so you can browse multiple boards to find the best odds values for any specific wager you wish to make. This is called "line shopping," which is something that will certainly play to your advantage. Indeed, shopping lines is the biggest edge any novice UFC bettor can get, and it's something every seasoned sports bettor does as a matter of course.
How To Read The Over/Under Betting Odds In The UFC
Most often, the betting line for the over/under round total essentially boils down to whether or not the fight will go the distance or end early. If it's a five-round fight, you will typically see the betting line set with an over/under total of 4.5 rounds. For main event fights, of course, there tend to be several more options for how many rounds the fight will or will not go, and the payouts generally vary quite a bit depending on the outcomes that you pick.
In almost every case when considering a standard UFC matchup, the "favorite" (or most probably) odds will be that the fight will go to a decision and will not be decided in the ring. That's simply because most fights end in a decision. In a matchup like that, if you take a wager on the fight ending early, you have a very good chance of profiting far more than you risk, which is always good. Underdog picks like this are particularly profitable when applied to multi-bet parlay tickets.
UFC Betting Props Explained
Like with any sport we see, props can cover quite a bit of disparate, in-game action. In terms of the UFC prop odds, some of the more common ones that you will see include those that concern the exact outcome of the fight. Will it be a draw? A decision? Knockout? Submission? There are a few different ways in which the fight can end, so expect some varying payouts as well.
Props aren't all about the fight result, though, as other factors can come into the picture as well. It really depends on the fight and what's at stake. If it's a standard Saturday night contest with mid-tier athletes and broadcast on cable TV, you won't get too many props to choose from. However, if it's a championship title fight between two superstars slugging it out on PPV, you will see an immense amount of props for almost every tiny detail of the matchup.
UFC Future Betting Odds Explained
UFC futures are a bit different than you might see in other sports. If a fight is scheduled months in advance, those betting lines are still considered fight lines, and not futures. For UFC futures, it almost has to be a mythical matchup. What we mean by this is that a matchup would be set down by a futures line to be fought by this date, usually well in advance because matchups are determined several months out to allow for plenty of time to train and prepare.
The futures matchups are usually the ones that fans most want to see, such as the biggest names and ticket/PPV draws to the sport. If there is no action then the wager is returned. But if the bet is set for a particular date and it passes without a fight, the wager is lost. Essentially, UFC future betting odds are typically about whether or not a desired but as-yet-unannounced fight is actually going to happen in a given scheduling window.
Mobile UFC Betting Apps
With the overturn of the Professional and Amateur Sports Protection Act (PASPA, 1992), several states have already implemented their own brick-and-mortar sports betting venues, and these feature odds for plenty of MMA and UFC fights. However, most states with legal sports betting have yet to implement online sports betting for state residents. However, that doesn't mean that you're out of luck if you can't make it to a physical wagering facility. Instead, you can use a legal online sportsbook from your iPhone or Android device.
Sites like Bovada, SportsBetting, 5Dimes, and others all offer this service free to their members, and best of all, none of these sites requires you to download any special, proprietary apps to get access to the betting boards on the go. In the future, the App Store and Google Play may have proper mobile betting apps for UFC contests, but for now, these "web app" solutions are definitely the way to go.
Live UFC Betting
The wave of the future, in most sports, has been live betting, allowing fans and bettors alike the opportunities to wager on aspects of a given contest as the game or event plays out in real time. However, this is less common in combat sports like UFC matches, and for good reason. That isn't to say that the bigger fights won't have live odds, but oftentimes, the various outcomes are covered before the fight actually starts.
Still, many legal online sportsbooks will have live odds of a limited nature for big bouts, with round-by-round odds changing dynamically depending upon the betting public's consensus re who is winning and who is losing. As technology advances, there will be more and more live betting in UFC matches, but for now, you can enjoy this on a limited basis with the more marquee fights on the calendar.