2017 Kentucky Derby Betting Odds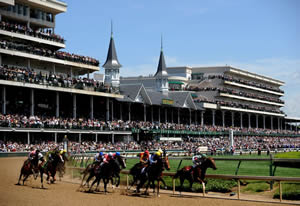 Taking place on May 6th, the 2017 Kentucky Derby is the 143rd running of the historic event. 2017 Kentucky Derby betting odds have been piling up as the event draws closer and closer. The Prep races are coming to a close, and as they do, the betting odds for the Kentucky Derby will become more solidified and clear favorites and dark horses will become more apparent.
This page will provide you with everything Kentucky Derby. Not only will we go over legal Kentucky Derby betting and of course, the 2017 Kentucky Derby betting odds favorites, we'll also explain how to read horse racing odds whether they're in American or Fractions. All of the questions you've been dying to ask about the event are answered here on this page. Our FAQ section is more in-depth than anything you'll find, including information provided on the Derby homepage.
Below, you'll also find some recommendations for the best Kentucky derby betting sites available. These sites not only have the largest selection of wager types, they also have unique features that allow them to provide you with the best betting experience possible. Can't decide which book is the right one for you? Sign up for multiple accounts. That way, you can pick which 2017 Kentucky Derby betting odds you like best.
Is It Legal To Bet On The Kentucky Derby Online?
The simple answer is yes, it is legal to bet on the Kentucky Derby online. Most states have already legalized one form or another of horse racing betting, either at racetracks or both racetracks and off-track betting shops. What they haven't done is pass legislation regarding online horse racing betting. This means that online racebooks are not unlawful and that residents in all 50 states can use these books. Using an online, offshore racebook that accepts American bettors gives you the biggest selection of wagering options.
What Horses Are Favored To Win The 2017 Kentucky Derby?
Kentucky Derby Betting Odds For "Classic Empire"
Classic Empire is currently the odds on favorite to win the Kentucky Derby. The Breeders' Cup Juvenile Champion has everything needed to earn a spot in the Kentucky Derby. Now all that's left is to go out and run the best race possible.
Odds: +425 (Bet At Bovada!) | +525 (Bet At BetOnline!)
Kentucky Derby Betting Odds For "Always Dreaming"
Always Dreaming is currently the second favorite heading into Kentucky Derby this weekend. Always Dreaming blew the competition away at the Xpressbet Florida Derby and is being ridden by John Velazquez and looks to be a major contender.
Odds: +450 (Bet At Bovada!) | +650 (Bet At BetOnline!)
Kentucky Derby Betting Odds For "Irish War Cry"
Irish War Cry fell behind in the standings after a disappointing showing at the Fountain of Youth Stakes but made an impressive comeback at Wood Memorial. Trainer Graham Motion and Jockey Rajiv Maragh believe that this Colt can be the next Derby winner, and his 207 Kentucky Derby betting odds show that they're not the only ones thinking this.
Odds: +600 (Bet At Bovada!) | +750 (Bet At BetOnline!)
Kentucky Derby Betting Odds For "McCraken"
McCraken, the early favorite midway through the prep season, has seen his 2017 Kentucky Derby betting odds take a bit of a drop, especially after a 3rd place finish in the Blue Grass Stakes. With 40 derby points, McCraken is probable to earn a starting position in the Derby.
Odds: +600 (Bet At Bovada!) | +575 (Bet At BetOnline!)
Kentucky Derby Betting Odds For "Gunnevera"
Gunnevera is 7th in the standings and entered into the Kentucky Derby. Gunnevera is trained by Antonio Sano and ridden by Javier Castellano and has betting odds for the 2017 Kentucky Derby ranging from favorable to longshot.
Odds: +1600 (Bet At Bovada!) | +775 (Bet At BetOnline!)
Kentucky Derby Betting Odds For "Thunder Snow"
Thunder Snow, an Irish thoroughbred that took to Dirt racing like a fish to water with an easy victory at the UAE Derby, is 5th in the standings and has a guaranteed spot in the Kentucky Derby. But he is also entered in a G1 race on the same day, so no one is quite sure what he'll be racing in, which has had an effect on his Kentucky Derby betting odds.
Odds: +1800 (Bet At Bovada!) | +1800 (Bet At BetOnline!)
Kentucky Derby Betting Odds For "Gormley"
Gormley's pedigree and speed recommend him as strong competition for the Kentucky Derby. But the ace in the hole for this Colt is his Jockey – 3-time Kentucky Derby winner Victor Espinoza will be riding Gormley in the 2017 Derby.
Odds: +1800 (Bet At Bovada!) | +2200 (Bet At BetOnline!)
Kentucky Derby Betting Odds For "Girven"
With 150 points, Girven is in first place to earn a starting spot for the 2017 Kentucky Derby. Two first place finishes in prep races showed that Girven is gutsy and has the stamina to stay the track, but his 2017 betting odds for the Kentucky Derby are still on the outside.
Odds: +1600 (Bet At Bovada!) | +1800 (Bet At BetOnline!)
Kentucky Derby Betting Odds For "Practical Joke"
Practical Joke has only had one first place finish in four Kentucky Derby prep races but has been in the money in every race he's entered. 2017 Kentucky derby betting odds for Practical Joke have kept him in the middle of the pack.
Odds: +2200 (Bet At Bovada!) | +2000 (Bet At BetOnline!)
Top Kentucky Derby Betting Sites
Bovada Racebook - Legal Derby Betting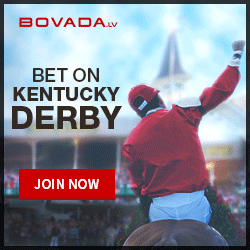 US bettors looking for a fun, easy to use, and legal Kentucky Derby betting site should look no further than Bovada racebook. This online horse racing betting site is the perfect place for American bettors who want to get in on a piece of horse racing's biggest event. Betting on the Kentucky Derby online is incredibly similar to wagering on the race in person. At Bovada, though, you have more wagering options and better potential payouts.
Bovada's Kentucky Derby betting odds are up much faster and far sooner than any land-based racebook, and the odds on this online horse racing site are much more competitive than those found at other online racebooks. They update their odds as soon as every prep race is finished, and their team of talented writers produces some of the best articles you'll read on the events. Knowing how each horse performs in the prep races is a good indicator of how they'll perform at the Derby, so having that information will really help your Kentucky Derby betting. Bovada provides everything you need for easy legal online horse racing betting.
Kentucky Derby Odds Are Listed Now - Place Bet At Bovada!
BetOnline Racebook - Mobile Betting On The Kentucky Derby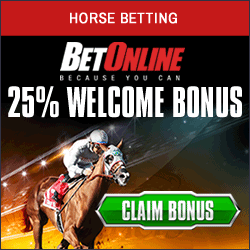 The Kentucky Derby is the most exciting two minutes in sports, and definitely the fastest two minutes in sports. It can be difficult, then, to get home to your computer and place your bets before the big event, especially if you wait until the day of to place your wagers. Bettors who always seem to be away from their computer or always on the go might think they don't have an option when it comes to missing out on the action.
Well, that's where BetOnline comes in clutch. This online racebook has the most incredible mobile betting feature. There's no download necessary and the site is compatible with every operating system so it doesn't matter if you're an Apple user or Android fan. BetOnline's mobile betting feature is browser-based and allows you to do everything you would online through your smartphone or tablet. Mobile betting on the Kentucky Derby is the way of the future, so why not get on board with the racebook that has the absolute best mobile betting? You can even stream the event live through your device. Sign up for BetOnline today and your first mobile bet is risk-free.
Kentucky Derby Odds Are Listed Now - Place Bet At BetOnline!
Kentucky Derby Betting Odds Explained
If looking at page after page of horse racing odds all day has you scratching your head, you might want Kentucky Derby betting odds explained. So we've put together a basic overview of how to read and as well as understanding horse racing odds. The important thing to take away from this is that whether your horse racing odds are laid out as fractional or American, the payout is the same.
American horse racing odds are presented with a (+) sign in front of a number. The (+) symbolizes how much you will gain in your wager wins, based off of a $100 bet. So, if you see a horse with +550 odds, the payout on that bet will win you $550. Pretty simple, right?
Another popular way to present horse racing odds is in fractions. To read these, first look at the denominator – the bottom number. This shows what you have to risk. Next, look at the numerator – the top number. This shows what you gain based on your risk. So, an 11/2 odd on a horse yields a payout of $11 for every $2 risked. Based on a $100 bet, 11/2 odds would yield a $550 payout.
Kentucky Derby Betting FAQ's
How Can I Legally Bet On The 2017 Kentucky Derby?
Yes, you can legally bet on the 2017 Kentucky Derby. Horse racing betting has been a long-standing tradition in the US, and betting on the Kentucky Derby is the most popular horse race to bet on. This event can be wagered on at Churchill Downs, at OTB shops all across the country, and at online racebooks. It doesn't matter what state you live in, you can legally bet on the 2017 Kentucky Derby through any one of these methods.
Is Betting The Kentucky Derby Online Like Betting At Churchill Downs?
Yes, betting the Kentucky Derby online is like betting at Churchill Downs. They are similar, with just a few differences. You'll get all of the same wagering opportunities like straight and exotic wagers, but online racebooks might actually have more exotic wagering options. Kentucky Derby betting odds at an online book might be different from those you find at Churchill Downs, but they're always competitive. And of course, winning tickets are credited immediately to your account, as they are at Churchill Downs.
Do Online Racebooks Offer Straight And Exotic Bets On The Kentucky Derby?
Online racebooks offer straight and exotic bets on the Kentucky Derby, even more so than a land-based racebooks do. It doesn't matter if you want to place a win bet or try your hand at a Superfecta. Quinellas, Coupled Horses, wheeled and boxed bets can all be found and wagered on at online racebooks for the Kentucky Derby.
Do Racebooks Have Mobile Betting Apps For Horse Racing?
Mobile betting apps for racebooks are different than those for sportsbooks. There's so much going on, it's hard to fit everything you need in an app without making it use crazy amounts of data and take up all the space on your phone. Which is why instead of betting apps, online racebooks have mobile betting sites for horse racing. This allows you to place any wager you want from whatever mobile device you are using. You don't have to download anything and the sites are accessed through your browser, so they are compatible with all mobile devices.
What Are Kentucky Derby Morning Line Odds?
Kentucky Derby morning line odds are betting odds that are released the morning of the race. They are not odds that are set in stone, but rather estimates made by the personal handicapper of the Kentucky Derby. Morning line odds are not based on of any other books odds, so you won't find the same ones in Vegas. Morning line odds are not guaranteed to be the same at the end of the day as they are when they open.
Should The Morning Line Odds Come Out Before Placing A Wager?
Some people like to place their wagers in advance, as a futures bet. Others like to wait for the morning line odds to come out and see how everyone else wagers, in order to wait for the perfect time to place their bets. There is no designated time wager on the Kentucky Derby, though. It's all about what you're comfortable with.
If My Horse Is Scratched Is My Bet Canceled?
It depends. If you have made a straight bet on a horse (win/place/show) then your bet will be canceled and your wager returned to you. But if you made an exotic wager that included a horse that is scratched, the racebook will either reduce your bet to exclude the scratched horse (i.e. taking the horse out of your box) or switch the scratched horse in your bet with the race favorite. These are just common ways that books will handle a scratched horse, though. Each individual racebook has their own procedure for a scratched horse, so we recommend you read the rules before placing any bet.
What The Best Way To Fund My Racebook Account?
The best way to fund your racebook account depends on what you would like to do. If you want to fund your account quickly and with no problems, we recommend using Bitcoin, a digital currency. Bitcoin is an independent currency so you don't have to worry about bank interference like you would with a credit card. If you don't care about the speed, we recommend checks. They take a few days to reach your account, but generally have very high limits and again, won't have to wait on bank approval.
How Do I Collect My Deposit Bonus?
Once you've added a deposit bonus to your account, you may be wondering how you can collect it. Deposit bonuses can be withdrawn once you have reached the rollover requirement. A rollover, also known as a play-through, requirement is the number of times your bonus and deposit must be wagered before you can withdraw it. So, if your bonus is $250 and your deposit was $500, you would have to wager $750 a set amount of times. If the rollover is 5, you would have to wager a total of $3750 before you could collect the bonus amount.
How Long Is A Furlong?
A Furlong is approximately an eighth of a mile. This translates into 660 feet or 220 yards. A furlong is a little over 201 meters. Furlongs are the traditional unit of measure used when measuring a horse racing track.
How Many Furlongs Is Churchill Downs?
At one and a quarter miles long, Churchill Downs is approximately ten furlongs. This track is a little bigger than your average sized racetrack. It is the second longest of the Triple Crown races, behind Belmont Park's 12 furlongs but ahead of Pimlico's 9 ½.
What Is A "Length" In Horse Racing?
A length in horse racing is the measurement of a horse from the tip of its nose to its tail. This is generally about eight feet, give or take a few inches. Lengths are usually used to determine how wide a margin of victory a horse has in a race. So if you hear that a horse won by two lengths, you know he won by a margin of about 16 feet.
How Many Horse Run In The Derby?
A maximum of 20 horses can run in the Kentucky Derby, although sometimes there are fewer than that. Because this is a once-in-a-lifetime opportunity, the starting gate is usually filled to capacity. The average in the last decade has been 19.4.
Can A Owner Buy An Entry Into The Kentucky Derby For Their Horse?
No, an owner cannot purchase entry in the Kentucky derby for their horse. The horse must qualify through a series of races known as the Road to the Kentucky Derby. Horses are rewarded for winning qualifying races through a point scale. The twenty horses with the most points at the end of the qualifying season are able to enter into the competition. In addition to qualifying for the actual Derby, horses must be nominated to the Triple Crown by their owners. In addition to this nomination, horses that have qualified to run in the Kentucky Derby must pay an entrance and starting fee (about $50,000).
Can A Horse Run The Derby More Than Once?
No, unfortunately, you only get one chance to run in the Kentucky Derby. The Derby is open to three-year-old thoroughbreds only, which is what makes qualifying for the race so competitive. There are only 20 spots open for competitors, which means that quite a few don't even get to take their shot at history.