Betting Odds On UFC 216

This is a busy weekend in combat sports, and UFC 216 headlines the slate with a marquee pay-per-view event this Saturday, October 7. For folks betting on UFC 216 (or otherwise interested in watching the complete event), coverage will be split between three broadcasts, with the early preliminary fights aired via UFC Fight Pass starting at 6:15 PM, followed by the preliminary card on the FX network at 8:00 PM. Then, the main card kicks off as its own PPV event at 10:00 PM.
UFC 216 was initially going to feature a heavyweight title fight between current champion Stipe Miocic and superstar Cain Velasquez, but that unfortunately fell through. However, the replacement headliners are plenty explosive themselves, as Tony Ferguson and Kevin Lee face off for an interim lightweight championship belt. Additionally, the co-main event features Demetrious Johnson and Ray Borg in a battle for Johnson's flyweight belt.
In fact, the Johnson/Borg bout was previously scheduled for UFC 215 and was delayed to Saturday night due to an undisclosed Borg illness. So UFC 216 is actually bringing two headlining fights to one huge event. For folks new to betting on UFC fights (or MMA betting in general), UFC 216 represents a great opportunity to get started.
Where Can I Bet On UFC 216?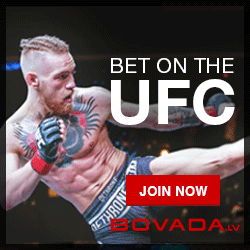 UFC 216 is taking place on Saturday night at T-Mobile Arena in Las Vegas, Nevada. The main event features five contests, and it will only be available on pay-per-view. Anyone actually in Las Vegas (or greater Nevada) for the event can actually bet locally on the various bouts' outcomes, and the UFC always makes for a great night of gambling in Sin City. However, if you're not in the state for UFC 216, you can still bet by using a legal online sportsbook.
The best legal online sportsbooks in the business are Bovada, BetOnline, SportsBetting, and 5Dimes. You can sign up at however many of them you'd like, as each has similar (albeit slightly different) odds and moneylines on all three UFC 216 cards. All four sportsbooks are A+ rated, and they each have excellent reputations for fast payouts and comprehensive customer service.
Right now, new customers can score a $250 Sports Welcome Bonus at Bovada, a 25% Lifetime Sports Bonus guarantee at BetOnline, a 50% Welcome Bonus at SportsBetting, and a 50% New Player bonus at 5Dimes. Each site also offers its own rewards program, and you can pick and choose other perks to apply to your account every time you make a fresh deposit. Las Vegas won't give you anything like these gambling freebies, which is just one of the things that make legal online sports betting such a great deal.
Who Is Fighting On The Main UFC 216 Card?

Betting on UFC 216 will require you to be somewhat familiar with the fighters headlining the event. The main event is a top-10 interim lightweight title fight between Tony Ferguson (23-3-0) and Kevin Lee (16-2-0). Ferguson has historically finished about half his opponents via knockout, while Kevin Lee's gotten half his wins through submission. All in all, this is very much a "puncher vs. grappler" contest, and it should be an exciting fight.
The other big matchup for the night is the flyweight title fight between Demetrious "Mighty Mouse" Johnson and Ray Borg (a.k.a. "The Tazmexican Devil," which is one of the most amusing fighting names I've heard in a long time). Johnson sports a record of 26-2-1, while Borg is 11-2-0.
The remaining three contests on the main card feature Fabricio Werdum (21-7-1) vs. Derrick Lewis (18-5-0), Mara Romero Borella (11-4-0, 1NC) vs. Kalindra Faria (18-5-1), and Beneil Dariush (14-3-0) vs. Evan Dunham (17-6-0). Bovada currently has odds on every fight on the UFC 216 card, highlighted by the following main matchups:
Betting Odds On UFC 216 Main Card
Tony Ferguson -235 vs. Kevin Lee +185
Demetrious Johnson -1200 vs. Ray Borg +700
Fabricio Werdum -260 vs. Derrick Lewis +200
Mara Romero Borella +170 vs. Kalindra Faria -210
Beneil Dariush -230 vs. Evan Dunham +180
Betting On UFC 216 Undercard Fights
Most UFC betting enthusiasts like to put action on every match of a marquee event like UFC 216. Of course, doing so requires a little bit of research, and several of the fights may not be available in your area or otherwise convenient to watch. To wit, the first four fights of the night will only be available to UFC Fight Pass members. The preliminary card, up next, will air on the FX network. However, even if you don't have access to one or both of these broadcasts, you can still enjoy betting on UFC 216 with the legal online sportsbook of your choice. Bovada's odds on the fights are as follows:
UFC 216 Odds For Early Preliminary Card
Matt Schnell -130 vs. Marco Beltran +100
Thales Leites +145 vs. Brad Tavares -175
John Moraga +400 vs. Magomed Bibulatov -600
Walt Harris -335 vs. Mark Godbeer +255
UFC 216 Odds For Preliminary Card
Pearl Gonzalez +115 vs. Poliana Botelho -145
Lando Vannata -210 vs. Bobby Green +170
Will Brooks TBA vs. Nik Lentz TBA
Tom Duquesnoy -165 vs. Cody Stamann +135
Prop Bets On UFC 216
UFC sports betting is typically enhanced by a huge variety of prop bets for each fight, and while that's certainly going to be the case when it comes to betting on UFC 216, the individual prop bets won't show up in any quantity until the day of the fight. To make sure you get the most current UFC betting odds, you'll want to check in at your favorite online sportsbook throughout the afternoon on Saturday, October 7.
Betting On UFC FAQs
Is Betting On UFC Fights Legal?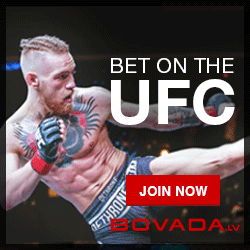 Yes! Whether or not you're actually in Las Vegas to watch the fight, betting on UFC 216 is 100% legal. The only catch is that you have to use a legal online sportsbook like Bovada et al. Online sportsbooks are able to provide US customers with legal UFC betting (and other legal sports betting) because federal laws that go after bookmakers – like the Wire Act, PASPA, and the UIGEA – don't apply to foreign companies. Since these sportsbooks operate overseas and outside of US jurisdiction, silly US anti-gambling laws don't apply to them.
Can I Be Arrested For Betting On The UFC?
Theoretically, you can be arrested for pretty much anything. However, you almost certainly won't be arrested for betting on UFC 216 (or any other sporting event), since the laws in question aren't written to go after individual bettors. As long as you aren't actually operating a sportsbook on US soil, you're not breaking any laws.
Where Is The Best Place To Bet On UFC 216?
As a general rule, it's best to sign up at multiple online sportsbooks in order to shop their lines for the best possible payouts. Successful sports betting is all about maximizing your ROI, after all. However, some folks simply don't want to deal with multiple Internet accounts in general. For them, Bovada is probably the best of the legal online sportsbooks to join, as it offers comprehensive lines on all of the major US sports, and it does so with style and efficiency.
Bovada's mobile-optimized website is easy to use, the bets and their terms are always clearly defined, and the company has never missed a single payout. Most Internet sports bettors consider Bovada to be a model company and the crown jewel of the sports betting industry's online presence.
How Do I Sign Up To Bet On UFC 216?

Joining an online sportsbook is simple, and it takes about as long as signing up with any other Internet-based service provider (like Netflix, Hulu, Amazon, etc.). You should be able to have your account created in about 10 minutes. All you'll be asked to submit is your name, an email address, a phone number, a zip code, and the answer to a security question. Reputable sportsbooks like Bovada, BetOnline, SportsBetting, and 5Dimes will not share any of this personal information, and your account is secured via state-of-the-art encryption and security protocols.
How Do I Deposit Into My Sports Betting Account?
There are several ways to put money into the account that you've set up at your legal online sportsbook of choice, but since betting on UFC 216 means you need money in there ASAP, you'll want to go with a credit or debit card from Visa or Mastercard. (Bovada customers can also use American Express, but no other US-friendly sportsbooks currently accept it.)
If you had more time between now and fight night, you could use other methods like bank transfers, personal checks, money orders, and so on. These transfers take between one and two weeks to complete, but some bettors prefer them.
Another option is Bitcoin, which is uniquely suited to online sports betting from a data security and records processing perspective. Bitcoin transfers typically take less than a day, but they've been known to take twice as long depending on current market conditions.
How Do I Withdraw My Winnings?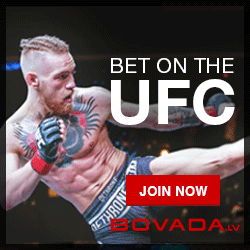 If you sign up at an online sportsbook and do well betting on UFC 216, you'll probably want to withdraw your winnings right away. If so, please make sure that you understand how bonuses and rollover requirements work, as sportsbooks will not let you withdraw any winnings earned with said bonuses until certain expenditure requirements are met. However, if you aren't riding a bonus to a big bankroll, you can withdraw your winnings whenever you please.
Most legal online sportsbooks all offer the same withdrawal methods, including courier checks, bank transfers, money orders, various peer-to-peer services, and – very occasionally (and usually just for special circumstances) – credit or debit card chargebacks. However, most of these withdrawal methods take a week or two to clear and come with various processing fees. If you are willing to do business in Bitcoin, however, your withdrawals can be in your bank account within just a day or two.
If all the above sounds good and you're ready to give legal UFC betting a try, sign up for free at a reputable online sportsbook like Bovada, BetOnline, SportsBetting, or 5Dimes. Then, simply deposit a few bucks and start throwing some bets on whoever throws the best punches.
Return to: ExplaunBettingOdds.com
| Sportsbook | Deposit Bonuses | USA? | Visit Sportsbook |
| --- | --- | --- | --- |
| | $250 Max - 50% Match | All States - ex. DE, MD, NJ, NV, NY | |
| | $1,000 Max - 50% Bonus | All States - ex. NJ, NV, NY | |
| | $1,000 Max - 50% Bonus | All States - ex. NJ, NV, NY | |
| | $1,000 Max - 50% Bonus | All States - ex. NJ, NV, NY | |
| | $300 Max - 100% Bonus | All States | |