Sports Betting Odds Explained
For the novice sports bettor, understanding how sports betting odds work can be one of the most confusing sets of numbers you've ever dealt with. For those who have just started betting on sports, to know how the odds work is of key importance for a profitable and enjoyable betting experience. We are here to give you an overview of the basic styles of betting odds, how you can read the different formats, and how to use them to your favor.
While you may still be confused at the end, the only way you are going to learn how to play with odds is by adapting the appropriate information and utilizing it first hand. To this degree we have found various sports betting sites where you can utilize these options to the fullest extent. And, if you ever have any questions, please drop us a line at webmaster@explainbettingodds.com where we can answer all of your questions through email.
Different Types Of Betting Odds Explained
There are three forms of regular betting odds that you will see at every sportsbook that you visit, whether online or in person. These are the ones that you see right off the bat and the ones that really matter when you are betting on sports.
First there is the moneyline wager, which is the bet on who will win the event out right with no point spreads or other variables. You simply pick the team you think will win and place the bet. However, without using the odds, the payouts are usually much different then they would be with the odds in place.
When betting on the moneyline, the favorite will always have a negative symbol in front of the number and the underdog will always have a plus sign in front of it (example is -150 favorite or +150 for underdog).
Then we come to what could be the most common type of bet, which is the point spread. Betting the spread allows players to wager on the difference in score between the two teams. For instance if the spread is 7 and you pick the favorite to win, that team will have to win by 7 to push or by 8 to win.
There is also the total score or the over/under, and this line lets you bet on whether or not the total score between all competitors will go above or below a predetermined amount. You simply look at what the Over / Under is and then bet on which you think it will be. If the number is 42 in a football game and you bet the over, you would need 43 points total between the two teams.
With the spread and the total you will occasionally see that the odds are distributed with "half points," which are in place to prevent a "push," or no one winning or losing the bets. As long as there is a winner or loser, the sportsbooks will make their money on the juice and be happy.
2017 Kentucky Derby Betting Preview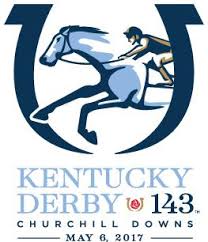 We are just weeks away from the greatest horse race of the year and the online horse betting sites have the latest 2017 Kentucky Derby betting odds already posted for you. The early fieald of contenders is a who's who of the best three-year olds on the planet. With a full complement of betting lines including all the straight and exotic bets you'd expect to find at the track in the palm of your hand. Mobile Kentucky Derby betting apps allow bettors to get their wagers in quickly and securely from anywhere. We break down for the odds for every horse that is running, tell you who the favorites to win are, and explain how to place different bets. Read the full 2017 Kentucky Derby betting guide for everything you need to know about betting odds for this years horses.
Exotic Betting Odds Explained
Exotic bets are there to make for a more entertaining betting experience, but they work somewhat differently compared to the straight bets. But, the original point spread is still used in all these bets no matter how you look at it.
Parlays are essentially a combination of two or more bets into one, such as three teams winning their respective matches. These parlays are usually a long shot since so many teams have to win, but in the end they are also some of the highest paying games. You can pick teams to cover the point spread, over or unders, or moneylines in a parlay and sometimes you can mix in different sports.
Pleasers are some of the highest paying bets, as they take the spread and then subtract points, making it harder to succeed. Then you also have to combine them into another bet of the same type in order to win. The payouts are huge, but it is not likely that these will come in unless you have the utmost luck or some sort of inside knowledge.
Teaser bets are the exact opposite, int hat you can adjust the spread to be more favorable, thus lowering your payout but increasing your chances of winning. Either way, these are some of the more exciting ways for you to wager.
There are also "If-Bets", which allow you combine two bets. The first bet has to win for the second bet to have action. If the first bet fails, the second bet doesn't come through. If you win the first bet, you can then use the winnings on the second bet, essentially building your bankroll.
Different Formats Of Betting Odds
How To Read American Betting Odds
American odds have become incredibly commonplace, despite the fact that they are not as easy to read as other formats. As an example, American Odds read like this:
Odds To Win Super Bowl:
Team A: -150
Team B: +200
Team C: +600
Team D: +1000
With American odds, the number represented is how much you have to bet to win $100. If the number is preceded with a "+" sign, then you would risk less than $100 to win a wager worth $100. And, the opposite is true when the number is preceded with a "-" where the bettor would have to risk more than $100 just to win $100 of the wager.
In the example above, you can see that Team A has the lowest number of the group and are considered to be the favorite to win this bet. If you wagered on Team A to win the Super Bowl and they end up winning, you are going to need to risk more than $100 to win $100 as indicated by the "-" symbol preceding the payouts. In this particular example, a bettor would need to wager $150 to win $100.
On the opposite side of that, the other 3 teams in contention all pay better than 1 to 1 odds (risk less than $100 to win $100). Team B is at +200: risk $50 to win $100. Team C is at +600: risk $16.67 to win $100. Team D is at +1000: risk $10 to win $100.
These can be a little bit confusing but if you just pay attention to the + or - symbol then you should not have any issues. And, with a little bit of manipulation, you can see how these odds will pay if the wager ends up being a winner and that is what we're all here for... to win.
How To Read Fractional Odds
Fractional betting odds are the easiest to understand. Just about every single sportsbook that caters to Americans has the option available for fractional odds. And, while they may seem daunting at first, you don't really need to understand complex fractions in order to utilize these odds. Lets look at an example:
Odds To Win Fight:
Fighter A: 4/7
Fighter B: 3/2
In order to best understand these lines, you first need to look at the ratio to 1. In the example above, 4/7 odds is less than 1 and the opposite can be said for the other side as 3/2 is more than 1. Once you have determined this, you can figure out the favorite.
To figure out which side is favored, you simply need to figure out which is the lower number. In this case, Fighter A is at 4/7 odds which is less than 1 and Fighter B is at 3/2 odds which is more than 1. Fighter A's wager is the clear favorite as it is the lower number.
So, how do you figure out what these pay? Again, we refer back to 4/7 being less than 1, and 3/2 being more than 1.
Anytime fractional odds are displayed at a value of less than 1, the bettor must risk more than they intend to win if the wager is a winner. And, the opposite can be said for if a fractional value is more than 1... that bet will pay more than what is risked.
As we said before, 4/7 odds are less than 1 so in this case, the bettor must risk $7 to win $4 from the wager. Then, 3/2 are more than 1 so when risking $2, the bettor will win $3 off the wager. As you can see, the payouts are in the fractional odds, you just need to know which way they go based on if they represent a value greater than or less than one.
Understanding Betting Odds That Use Decimals
Decimal odds are slightly more confusing than most other types of odds. In fact, we prefer not to use them when we bet but that is just our preference. Regardless, we are going to give you a little insight into these lines, as we want to give you insight about all of the common types of odds available.
If you look into these odds, you will definitely come out a little bit confused unless you are from Europe where these odds are commonly used than American or Fractional odds. The multiplication game is not as straight forward with decimal odds. Let's take a look at another example:
Odds To Be Next President:
Candidate A: 1.50
Candidate B: 2.45
When looking at decimal based odds, the same thing applies to them as all the other forms of odds when trying to determine the favorite... which ever is the lowest number is favored. In the example above, the favored candidate is Candidate A at 1.50 however Candidate B is only a little bit behind at 2.45
Figuring out the payouts is where decimal odds can get tricky, but you'll soon learn a little trick that will make these very easy to understand.
The best way to start off look at these odds are to consider them to be monetary amounts based on what you will win if you wager $1 or one euro, one pound, etc... which includes the original wager. Be sure to keep that in mind when looking at the other odds types.
If Candidate A wins the election, every $1 wagered will win $.50 plus the original $1 wagered which equals $1.50 or 1.50 odds.
Candidate B: every $1 wagered earns $1.45 which equals $2.45 or 2.45 odds.
Now That You Know How To Read Sports Betting Odds
Now that you understand how to read odds, you will then want to see how they are adapted to the different betting lines. With the straight wagers and exotic wagers alike, you will find that these odds are worked into the lines. After you figure out how to read the odds, you will then have to figure out the different types of bets that you can find through most sports betting sites. The different types of bets use odds somewhat differently, but in the end it is all fairly similar.
We have also done a special section that explains how to read betting odds for each different sport. The reason for this is that some sports have betting odds available that others do not. For instance you can not really compare the Nascar or PGA odds with NFL, and vise versa.
Online Sportsbooks With The Best Sports Betting Odds Available
Now we come to the online sportsbooks + sports betting sites that actually offer the odds we are explaining. There are plenty of betting sites out there, but we have decided to list only those we felt were of the highest level of quality. When personally and individually tested these sportsbooks in order to figure out exactly what they have to offer.In the end we decided to play with those offering the highest paying odds, the most diverse set of betting types, and a fairly wide range of different sports. Throw in the big bonuses and easy financial transfers and what you get is one of the best sets of betting sites on the Internet.